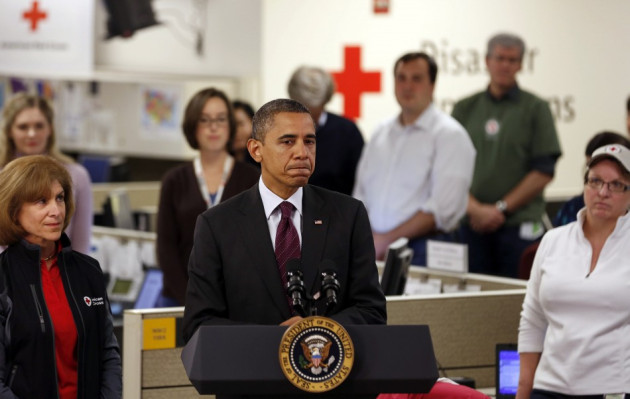 Amid its trail of devastation, Hurricane Sandy could well of created the momentum to lift President Barack Obama back into the White House.
The Frankenstorm gave Obama the opportunity to appear in his capacity of US Commander-in-Chief, presenting himself as the sure-footed leader amid the hurricane's winds, organising the federal emergency effort, just a week from election day.
At the same time Sandy relegated Republican candidate Mitt Romney to the uncomfortable position of having to find ways to remain in the news without looking inopportune or disrespectful.
Obama is to visit Sandy-affected New Jersey today. Even though the state is not among the 12 decisive battlegrounds - The New York Times FiveThirtyEight political calculus blog predicts an Obama win at 99.7 per cent - the visit is likely to turn into a massive advertising operation for the President, supported by an unexpected Republican sponsor.
Yesterday New Jersey Republican governor Chris Christie heaped praise on Obama's response to the devastating storm.
"The President has been all over this," Christie said, "he deserves great credit. He gave me his number at the White House, told me to call if I needed anything and he absolutely means it."
Christie, a regular critic of Obama's administration and a man widely tipped to be the Republican candidate in the 2016 White House elections, is to accompany the President in his visit to New Jersey's damaged areas.
Meanwhile Romney, who had earlier cancelled some campaign rallies because of the storm, flew to the key swing state of Ohio, where he turned a scheduled campaign event in a storm relief event, much derided by his critics.
In Kettering's James S. Trent Arena, Romney encouraged Ohioans to bring non-perishable foods and other items to ship to storm-affected states, accompanied by the sound of the Republican campaign soundtrack and the screening of a biographical video of the governor.
However, as the event was supposed to be non-political, Romney refused to answer journalists asking him about the Federal Emergency Management Agency (FEMA) .
Earlier this week, Obama was put two points behind Romney in Ohio by a Rasmussen Reports poll for the first time. However, according to a new poll released Wednesday by Quinnipiac University still shows Obama with a five-percentage point advantage over challenger Mitt Romney.
According to a poll by Democratic pollster Stanley Greenberg and Republican pollster Whit Ayres - conducted before Sandy hit the US Eastern seaboard - Obama has an overall lead of four points in the 12 decisive swing states.
While Romney is struggling to gain in Ohio, he has certainly narrowed the gap in the swing states of Florida and Virginia. Those states are too close to call at this time, as the Quinnipiac poll shows Obama at 48 percent to Romney's 47 percent in Florida, while Obama holds 49 percent with Romney having 47 percent in Virginia.
- While Obama stays off the campaign trail, Vice President Joe Biden will make a few stops in Florida on Wednesday. The President is expected to make a return Thursday with campaign stops in Wisconsin, Colorado, and Las Vegas.