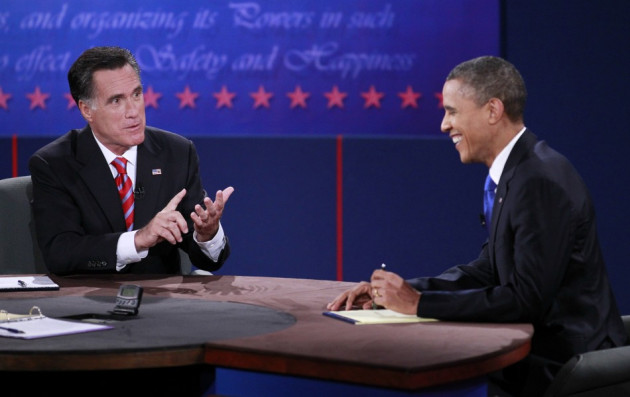 The three televised presidential debates saw President Barack Obama and Republican candidate Mitt Romney clashing over a wide range of issues, from domestic policies to international affairs.
But it is what was not said that is just as interesting.
Obama and Romney took the stage, first in Colorado, then in New York, and finally in Florida, to discuss their views on the US and the world, but some issues were not touched at all.
Gay rights
In none of the three debates did the words homosexual, gay, or LGBT came out of one of their mouth, despite Obama becoming the first sitting president to publicly back gay marriage, earlier this year.
"I've always been adamant that gay and lesbian Americans should be treated fairly and equally," he told ABC in May. "It is important for me to go ahead and affirm that I think same-sex couples should be able to get married."
The statement could have been easily been used to attack Romney during their televised head-to-heads. Most of his conservative supports do not share the president's opinion, nor does Romney himself. He said in May: "I believe marriage is a relationship between a man and a woman."
In the three televised debates Romney fought hard to depict himself as a moderate and convince unsettled voters to give him their support. The former Massachusetts governor had to backtrack on some highly conservative positions he held to win the Republican candidacy during the primary elections. Gay marriage might have represented a topic that was too difficult to handle.
"We need mums and dads helping raise kids," he said at the Hampstead, New York, debate. "Wherever possible, the benefit of having two parents in the home - and that's not always possible... A lot of great single mums, single dads. But gosh, to tell our kids that before they have babies, they ought to think about getting married to someone - that's a great idea because if there's a two-parent family, the prospect of living in poverty goes down dramatically."
Climate Change
The second noticeably absent topic from the debates was global warming.
The candidates briefly discussed green energy matters during the second debate, when Obama accused Romney of having a plan "to let the oil companies write the energy policies. So he's got the oil and gas part, but he doesn't have the clean energy part."
However a comprehensive assessment of the issue was missing.
"Given that climate change may be the greatest challenge we face in the decades ahead, to be silent on the issue over the course of four debates does a real disservice to the country," Penn State climate researcher Michael Mann told Politico.
"Where is global warming in this debate? Climate change is an urgent foreign policy issue," tweeted former Democrat presidential candidate and Nobel Peace Prize winner for work in climate change activism, Al Gore, at the end of the third debate.
Costly environmental policies are not a popular choice in difficult economic times and that is probably one of the reasons why the words "climate change" were left unsaid in more than four hours of debate.
Guantanamo Bay
The controversial Guantanamo Bay detention camp and the future of its prisoners were nowhere on the political radar - not only during the presidential debates but over the whole electoral campaign.
During his four-year presidency, Obama failed to uphold his campaign promise to shut down the political prison on Cuba. Romney in 2007 declared that he was in favour of "growing" the camps.
The only mention of Guantanamo was made by Clint Eastwood in his famous conversation with an empty chair at the Republican National Convention in Tampa. "Why close it? We spent so much money on it," he said.
"There's a tacit agreement between President Obama and the Republicans about the inevitability of Guantanamo remaining open, and the absence of a debate shows this is the case," Anthony Romero, the executive director of the American Civil Liberties Union, told The Times.
Europe
While the African state of Mali got mentioned four times in Florida alone by Romney, Europe was alluded to just once across three debates.
"Governor Romney, our alliances have never been stronger, in Asia, in Europe, in Africa, with Israel, where we have unprecedented military and intelligence cooperation, including dealing with the Iranian threat," Obama said in Boca Raton, Louisiana.
There was no other mention of America's long-standing ally, despite its deep financial crisis affecting the whole world.
Some EU members, such as Greece and Britain, got a couple of casual references though.
It was a surprising omission for Obama as he could have easily attacked Romney on the latter's disastrous European tour earlier this year.
In the UK the former Massachusetts governor alienated his hosts by saying London was not ready to host the Olympics.