Obama says Trump's sexist boasts would 'disqualify him from job in 7-Eleven store'
President blasted Republican presidential hopeful over recording in which he said his fame allowed him to grope women.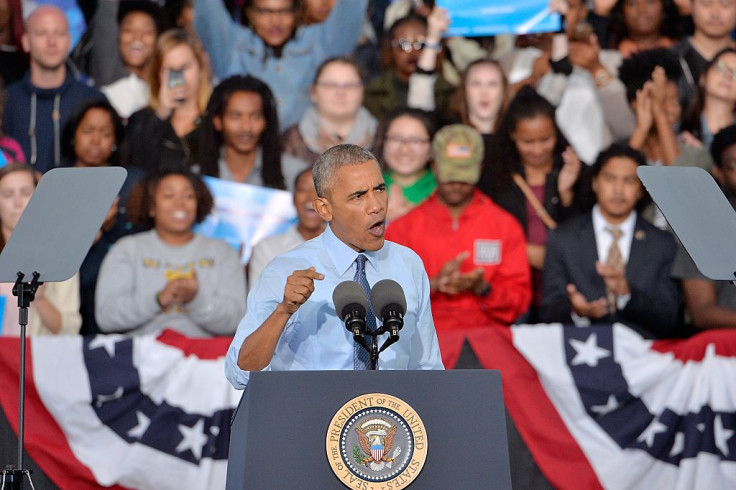 President Barack Obama criticised Donald Trump's recent boasts about groping women, saying they would even disqualify someone applying for a job at a 7-Eleven convenience store.
At a campaign rally for Democratic Party colleague and presidential candidate Hillary Clinton in Greensboro, North Carolina, Obama also questioned why senior Republicans have not withdrawn their endorsement of Trump despite criticising his comments.
"Now you find a situation in which the guy says stuff that nobody would find tolerable if they were applying for a job at 7-Eleven," Obama said of Trump's recent comments.
He said: "You don't have to be a husband or a father to say that's not right. You just have to be a decent human being."
In a recording made before appearing on a soap opera in 2005 Trump boasted that his fame allowed him to grope women, and said he had attempted to seduce a married woman.
Since the comments were published on Sunday, nearly half of the 331 incumbent Republican senators have criticised them, and 10% have called for him to drop out of the race, Reuters reports.
Obama questioned why Republicans who had condemned Trump's sexist boasts had continued to support him.
"The fact is that now you've got people saying: 'We strongly disagree, we really disapprove... but we're still endorsing him.' They still think he should be president, that doesn't make sense to me," he told the crowd.
On Monday it emerged that House Speaker Paul Ryan, the most senior elected GOP official, said he would no longer defend Trump, though stopped short of withdrawing his endorsement. In response Trump blasted Ryan as a "weak and inneffective leader".
© Copyright IBTimes 2023. All rights reserved.