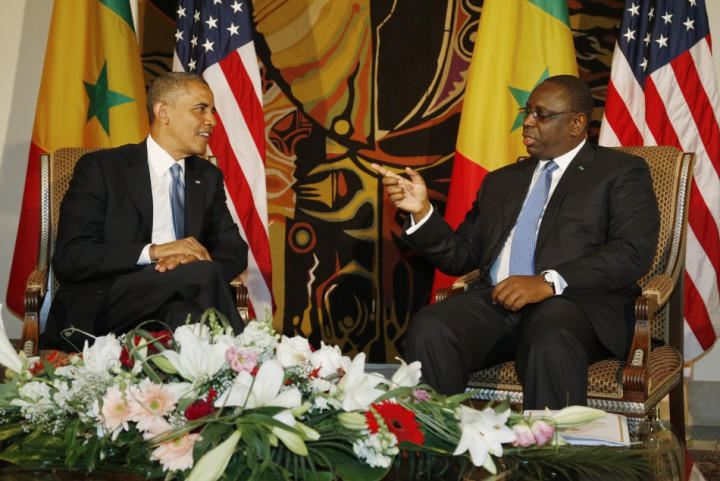 US president Barack Obama has begun his six-day Africa trip overshadowed by Nelson Mandela's critical health conditions.
During his first stop in Senegal's capital of Dakar, Obama praised the 94-year-old African icon describing him as "a hero for the world".
"If and when he passes from this place, his legacy is one that will linger on throughout the ages," Obama said.
The president said Mandela has been an inspiring figure for him, as the South African anti-apartheid leader's life has given him a sense of what is possible when "righteous people, people of good will work together for a larger cause."
Mandela remains in critical conditions at a Pretoria hospital where he was taken on June 8 for a recurring lung infection.
South African president Jacob Zuma said Madiba's health improved overnight and his conditions remain critical but stable.
Obama is due to arrive in South Africa on Saturday but the visit is now uncertain.
In Pretoria, Obama was to hold a meeting with Zuma, who has cancelled a scheduled trip to Mozambique to stay close to his illustrious predecessor.
Earlier, the White House said the decision on whether Mandela was well enough to receive Obama would be decided by Mandela's family.
In Senegal, Obama met with his counterpart Macky Sall and lauded a Supreme Court's rulings that has has extended federal benefits to married gay couples by striking down the US Defence of Marriage Act (Doma).
He said the decision was a victory not just for gays and lesbians, but for American democracy.
"People should be treated equally and that's a principal that I think applies universally," Obama said.
Sall, who leads a country where homosexuality is still considered as a crime, said Senegal was not ready yet to mend the law but that "does not mean we are homophobic."
Later Obama is to visit the Maison des Esclaves, an infamous slave house off the Senegalese coast through which gates the ancestors of many African-Americans passed in chains bound to America.