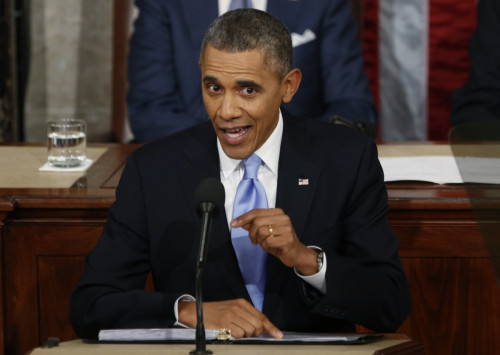 US President Barack Obama called for a 'year of action' in his annual State of the Union address, pledging to overcome the standoff with Congress to revitalise the economy.
Vowing to strengthen the American middle-class, the Democratic president told a packed joint session of Congress he will address economic inequalities in the country.
"The cold, hard fact is that even in the midst of recovery, too many Americans are working more than ever just to get by, let alone to get ahead," he said.
"Too many young people entering the workforce today will see the American Dream as an empty promise – unless we also do more to make sure our economy honours the dignity of work, and hard work pays off for every single American."
He said he will circumvent the Republican-dominated House of Representatives, whenever possible, to get the job done. Divisive politics had plagued the administration most of last year, and Obama has blamed the Republicans for the "stalled" economic dream.
He told an audience of lawmakers, top judges and other VIPs: "I'm eager to work with all of you. America does not stand still - and neither will I. So wherever and whenever I can take steps without legislation to expand opportunity for more American families [I will do it]."
The US president has also vowed to uphold his five-year-old election promise on the closure of the US prison at Guantanamo Bay this year.
"This needs to be the year Congress lifts the remaining restrictions on detainee transfers and we close the prison at Guantanamo Bay. Because we counter terrorism not just through intelligence and military action, but by remaining true to our constitutional ideals and setting an example for the rest of the world."
Although the hour-long address was dominated by domestic issues, Obama also touched upon prevailing international tensions. On the foreign policy matters, he warned further economic sanctions on Iran will jeopardise the nuclear talks with that country, risking a worsening of the situation.
Obam reiterated his pledge to support Afghanistan after Washington winds down its military presence in the war-torn country.