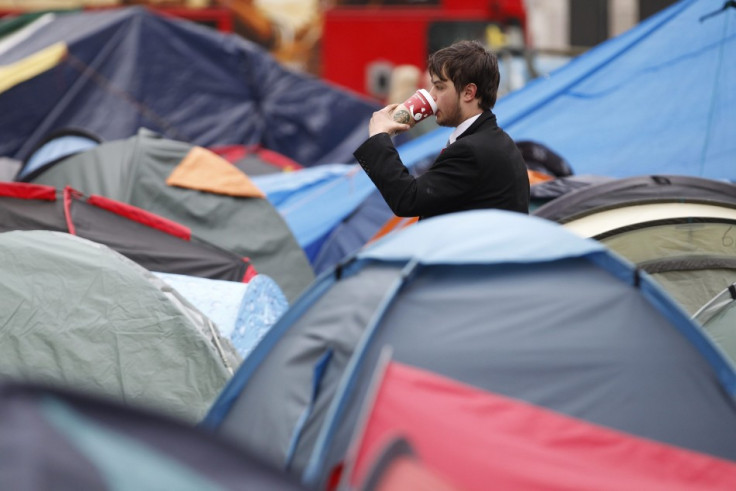 Protesters say a poll by the London Evening Standard is good news - despite 48 per cent of replies calling for their removal.
The findings, by pollsters ComRes for the Evening Standard, ITN and LBC, showed 48 percent of respondents wanting the Occupy London protesters removed - with force if necessary.
The Occupy London protesters have interpreted the results differently, claiming they show "substantial support" for their movement.
A report in the London Evening Standard on the poll also reveals that 56 percent of Londoners disagree that the Occupy London protesters should be allowed to stay indefinitely.
"What the poll does show is that over 50 percent of the people polled do not agree that we should be removed by force," Naomi Colvin, spokesperson for Occupy London, told IBTimes UK.
"People can only respond to the questions they're asked," she said, adding that it's a "shame" the survey did not ask whether Londoners knew what the protesters stand for and if those polled agreed.
"I don't think it's a bad poll for us at all," she said.
According to Ms Colvin, the three occupied sites in London - St Paul's, Finsbury Square and an empty bank-owned building in Hackney - are working hard to "reach out" to different London communities, where the "real impact" of government austerity measures are being felt.
She cited the Occupy London faith group working closely with a church in Bethnal Green and the support protesters are offering the trade unions in the November 30 strikes over public sector pension reforms.
It is important to "show our worth" to the greater community through "practical acts of support", she said, adding: "We follow up our words with deeds."
A spokesman for the City of London Corporation told the Standard that the poll means "it's time to go" for the protesters.
The Corporation is currently pursuing the Occupy London protesters through the courts to try to remove their tent encampment from the front of St Paul's Cathedral.
Occupy London recently started squatting in an abandoned building owned by Swiss investment banking giant UBS, which is also taking action to remove the protesters.