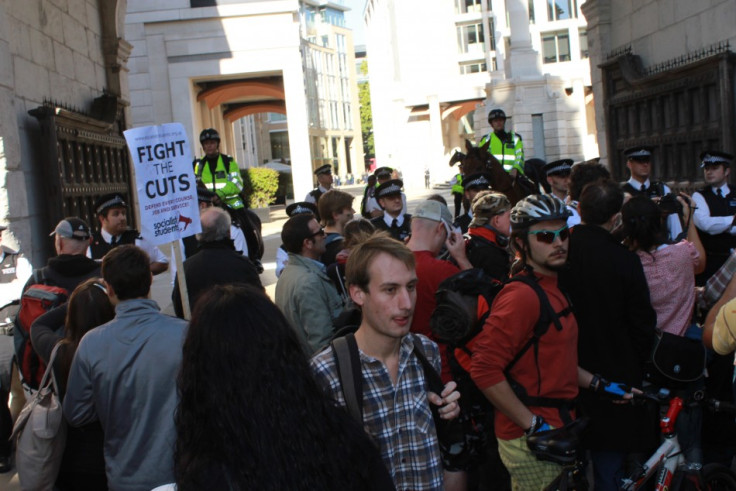 UK police have moved to stop the new Occupy the London Stock Exchange protest before it starts, blocking access to the movement's intended camp site.
The protest began at 12:00 pm Saturday just outside London's St. Paul's. During its opening hours, while no exact numbers have been reported, IBTimes reporters at the scene estimated the protesters numbers to be in the low thousands. The protest had previously reported 6000 individuals had pledged to participate in the protest on its opening day.
Following initial speeches by a number of individuals within the crowd, troubles with police began when protesters attempted to double-back on themselves moving to their intended camp site.
Police had set up blockades, with officers, both mounted and on foot forming lines hampering the protesters ability to move as a group.
Splinter groups within the mass of protesters soon began to appear. The fragmentation in the movements direction soon led to confusion amongst the protesters, with multiple cells all calling for the crowd to follow them.
The confusion soon led to a marked decrease in the number of protesters at St. Paul's with many leaving following conflicting reports of where they were meant to go.
Occupy London only gained a second wind at around 2:30pm when a second wave of protesters attempted to join the main group at St. Paul's stairs. At the time this article was written police had only just allowed some of the second body of protesters to join the main crowd at St. Paul's.
The protest was intended to be an escalation on the ongoing series of Occupy protests currently sweeping America.
Sharing the original Occupy Wall Street protest's "we are the 99 per cent" motto, the new London movement is intended to voice the protesters discontent at the world's current political and economic system. One of the few common features of all the movements' statements is the issue of inequality.
Famous Wikileaks founder Julian Assange is currently participating in the protest.