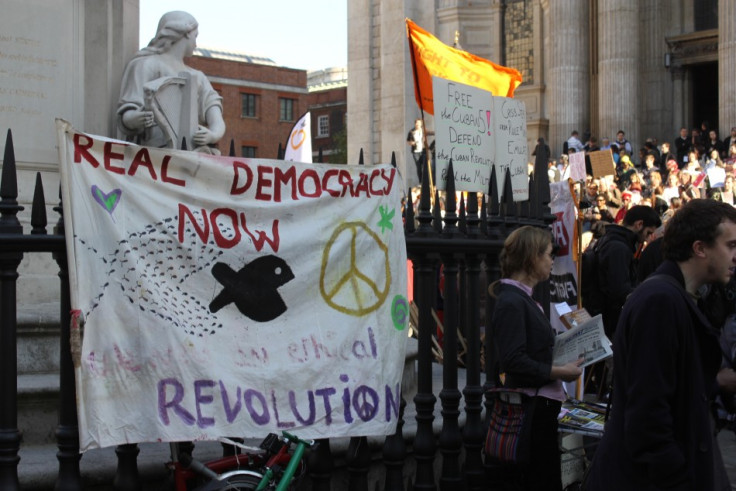 British police Thursday night searched the Occupy the London Stock Exchange campsite after an "anonymous tip" reported seeing a firearm in one of the tents.
News of the search broke via a statement on the Occupy London movement's Web site.
"Occupy London is aware that the police attended the London Stock Exchange camp at St Paul's Churchyard at 5:30 p.m., following an anonymous tip off that there was an alleged firearm on site in a tent," read the statement.
"Occupy London co-operated with the police to resolve the situation and we can confirm that no weapons were found anywhere within, or outside of the immediate area."
Following the initial statement City of London police confirmed the search had occurred. They said officers searched the site at 5:17 p.m. after an anonymous 999 call reported the presence of a gun at the protest's camp site.
The spokesman went on to confirm no arrests were made and no firearms were found during the search.
The Occupy London protest began earlier in October just outside St. Paul's Cathedral. During its opening hours, while no exact numbers have been reported, IBTimes reporters at the scene estimated the protesters numbers to be in the low thousands, though now conflicting reports have pegged the actual amount as being in the low hundreds.
The protesters had originally planned to move from St. Paul's and camp in Paternoster Square. However, during the protest's opening day police, both mounted and on foot, blocked protesters' path to the their intended campsite.
Rather than break up the protest, the police tactics led to protesters setting camp just outside the steps of St. Paul's.
The campsite led to the extended closure of St. Paul's and tensions between cathedral staff and protesters. Most recently Dr Giles Fraser stepped down from his role as canon chancellor to protest the cathedral and police's attitude towards the protesters.
The protest is a part of the ongoing Occupy movement sweeping the globe. A full list of the London chapters demands and reasons for protesting can be read in its "evolving" manifesto.