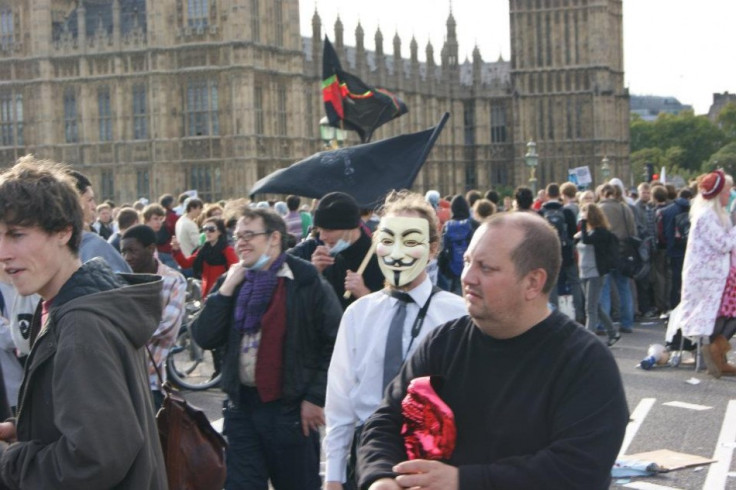 The Occupy protests sweeping across America will spread to British shores Saturday, organizers say, with thousands of individuals pledging to march on the London Stock Exchange.
The news broke as the movement's semi-official Web site issued a press release confirming the protest would begin Saturday.
The protest will reportedly mirror the ongoing Occupy protests that began at Wall Street in September, seeing protesters pitch tents at Paternoster Square near the LSE and mount an encampment until 11 a.m. on 12 December.
In keeping with the other Occupy movements using the slogan, "We are the 99 per cent," the London event will oppose the continuing influence of banks and corporations in global politics. In its statement, the movement's spokesman said the LSE sit-in had already attracted 3,500 confirmed attendees.
The group's Facebook page has also garnered mainstream attention currently boasting 10,583 followers, many of whom have posted comments confirming either involvement, or future participation in the protest.
As was the case with the American protests the Occupy LSE movement has received backing from a number of protest groups, including UK Uncut and the Anonymous collective. Both groups have since issued separate statements calling for members to join the LSE protest.
The new LSE protest is an extension of the ongoing Occupy movement which began in New York Sept. 17, when hundreds marched and set up camp in a park near Wall Street. Since the protests began growing tensions between police and protesters have escalated, with a stream of reports of police brutality flowing from the movement's media team.
Adding to the London protest, a number of other Occupy call-to-arms have appeared across Europe. Currently there have been confirmed Occupy outbreaks in Spain and Greece.
"This is a people-powered movement protesting against the increasing social and economic injustice in the UK," posted Occupy LSE supporter Kai Wargalla.
"We want to stand with the 99 per cent - the overwhelming majority who value people over profit. We want to make our voices heard against greed, corruption and for a democratic, just society.
"We stand in solidarity with Occupy Wall Street, protesters in Spain, Greece and the Middle East who started this movement. They have inspired people all over the world to step forward and make their voices heard - now."