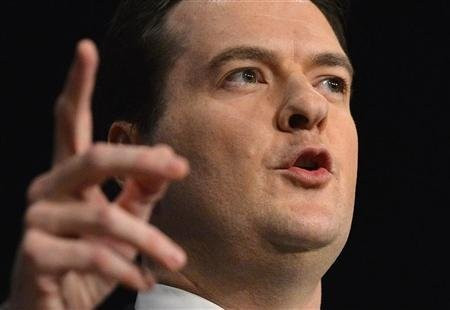 Britain's programme of fiscal austerity should continue despite the economy's poor performance but if output worsens in the coming months then the government must be flexible and boost public spending, according to a report by the Organisation for Co-operation and Development (OECD).
The OECD's economic survey of the UK also called for reprioritisation of public spending toward investing directly in important infrastructure projects, and for the Bank of England's stimulus under its quantitative easing programme to be extended further than its current £375bn total if weakness continues.
"The government's fiscal stance remains appropriate. Medium-term fiscal consolidation is essential," said the OECD report.
"A strong institutional framework and credibility earned by reaching fiscal objectives so far have fostered confidence in UK fiscal policymaking and the medium-term fiscal consolidation path.
"The fiscal framework appropriately provides flexibility to adapt to weaker than expected economic developments, which allows the operation of the automatic stabilisers."
Chancellor George Osborne's target of bringing down debt as a portion of GDP by 2015/16, which is already a year later than he had originally planned because of a worsening economy, could be an obstacle to much-needed fiscal stimulus, said the OECD, adding that postponing this goal would not spook the markets as long as an overarching commitment to medium-term austerity remained.
OECD economists also warned that if the economy continues to struggle and the headwinds from Europe persist then unemployment is likely to rise.
Britain's government has stuck stubbornly to its austerity programme as a way of reducing the country's deficit in public finances.
As a result, public spending, such as on welfare, is being significantly reduced. Around a quarter is being shaved off of local governments' budgets.
Critics say that the cuts go too far and too fast, and are damaging the UK economy. However the government insists that reducing the government's spending is the only way of ensuring fiscal credibility and sustainability.
A moribund economy which underperformed against forecasts, and suffered a double-dip recession, has seen tax receipts tumble and the government having to borrow to maintain its levels of reduced spending.
As such the public debt pile has bloated past £1tn and is worth more than 70 percent of GDP. Some economists say this could rise to as much as 85 percent before it starts falling.
In the fourth quarter of 2012 the UK economy contracted by 0.3 percent, raising the prospect of an unprecedented triple-dip recession, but improving data in January suggests a third slump will narrowly be avoided.
---
Follow @shanecroucher