Crude oil futures rallied on 13 February and settled higher for the week, on the back of spending cuts by oil firms and declining US drilling activity.
Brent April contract finished $2.24, or 3.8%, higher at $61.52 a barrel on Friday, marking the European benchmark's highest settlement so far this year.
Prices shot up over 6% for the week as a whole.
US March contract finished $1.57, or 3.1%, higher at $52.78 a barrel on Friday.
Prices rose 2.1% for the week.
Weekly data from Baker Hughes showed that oil and natural gas drillers in the US idled 98 rigs, bringing the total rig count to 1,358 as of 13 February. Drilling was already at a near five-year low as of the week ending 6 February.
Capital Economics said in a note to clients: "The rebound in the price of Brent over the last two weeks supports our view that oil prices will gradually climb back to around $70 per barrel over the medium term, helped on their way by further evidence of reductions in investment.
"However, we do not expect prices to shoot back to $100 any time soon."
Earlier, Commerzbank Corporates & Markets said in a note: "The price recovery on the oil market has run out of steam. We believe prices will remain under pressure in the coming weeks.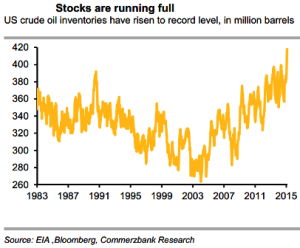 "After all, depending on which estimates you take, production exceeds demand by about 1.5 to 2 million barrels a day.
"Crude oil stocks are running full. It will take some time before reduced oil rig count in the USA has a clear dampening effect on US production. Oil prices are then likely to recover on a lasting basis from the early summer."
Brent held above $60 in early trade on 13 February, as news of deeper industry spending cuts and a weak US dollar stimulated buying.