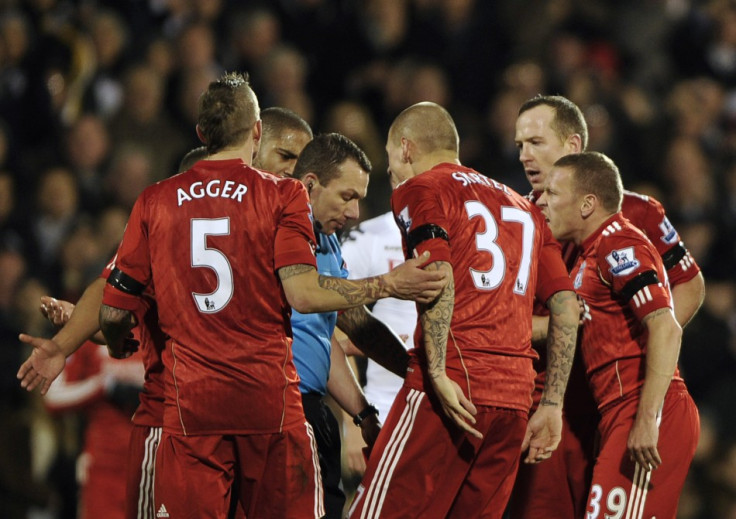 Liverpool legend Mark Lawrenson has lambasted Premier League referee Kevin Friend for sending off Jay Spearing at Craven Cottage on Monday night.
The aforementioned Liverpool midfielder was dismissed during their defeat against Fulham in what proved to be one of the decisive moments in the match and one that has seemingly divided opinion in football.
Lawrenson believes the red card is sadly indicative of the way modern football is going, suggesting the tackle made by the 23-year-old Liverpool youngster would "not have even got a yellow card" a few years ago.
The Liverpool legend, who won five league titles during his memorable Anfield career, suggests Premier League football is no longer of the robust, physical nature it used to be, intimating referees are becoming less and less permissive.
The Match of the Day pundit believes football will soon become a non-contact sport if challenges like the one made during Liverpool's 1-0 defeat to Fulham carry the maximum punishment.
"If Jay Spearing's tackle on Mousa Dembele was a red card offence, then I fear football will become a non-contact sport within 18 months." The former Anfield star told the Liverpool Daily Post.
"Five years ago, the challenge would not have even got a yellow card.
"You see so many tackles week in, week out where any type of intent seems to give referees the justification to brandish a red card. I am old school. For me it wasn't a foul.
The Liverpool hero continued: "Spearing got the ball first and then his momentum takes him through the player.
"The art of tackling is to get the ball, and if in making a tackle you collide with the player on the way through, then what are you supposed to do? Try and avoid contact with the player? I don't think so.
"A lot of people have said it is definitely a red card. But anyone who has played football or watched it for a long time will think it was a good tackle."
The Liverpool icon, who is now a long serving pundit on Match of the Day alongside his former defensive colleague at Anfield, Alan Hansen, admits he fears football is going "too far" in their efforts to protect the league's best players.
"It encapsulates the problem in the game today. In rightly trying to protect skilful players, referees are being urged to go too far and penalise any kind of contact." Lawrenson concluded.