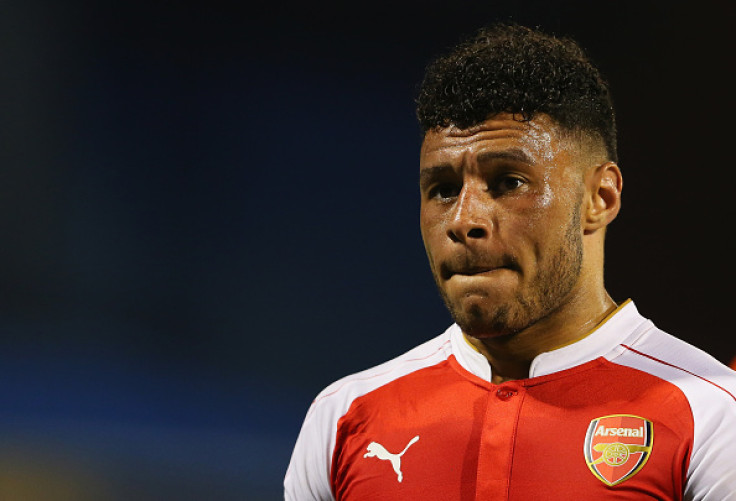 Arsenal midfielder Alex Oxlade-Chamberlain believes that everyone in the Arsenal team including himself can learn from Alexis Sanchez and the way he applies himself on the pitch. The Chilean broke his goalscoring drought in emphatic fashion against Leicester City, scoring a hat-trick to double Arsenal's goalscoring tally in the league.
Chamberlain has all the attributes to replicate Sanchez on the pitch, given his pace and ability to run at defenders with the ball. His winner against Chelsea in the Community Shield was an example of what he brings to the game and the 22-year-old revealed that he is trying his best to learn from Alexis every day of the week.
"The one thing I would say about Alexis is that he's one of the most passionate and hungry individuals I know," Chamberlain said, as quoted by the Guardian. "It's his everyday mannerisms around the training ground, how he trains, his performances, how he scores goals, how he plays and how he defends from up front. These are all things that we can all learn, that everyone who watches football could learn from. I've definitely put myself in the bracket of somebody who learns from him every day.
"He's someone that loves football, just loves playing football, and being involved in and around football. That comes out in training. He's very passionate, very upbeat and is a massive character in the team. For someone that doesn't have amazing English, he manages to communicate so well to all of us and keep the dressing room upbeat."
Arsene Wenger was also appreciative of the player and is likely to give him a start against Olympiacos in the Champions League. The Arsenal manager should see Francis Coquelin back in the squad after an injury which would allow him to rest Aaron Ramsey, who has started in their last three games in all competitions. Mikel Arteta and Tottenham hero Mathieu Flamini are out with short-term injuries.
"His dad said he lacks a bit of self-belief and I can confirm that because he is very critical of himself. That's positive and a sign of top-level sportsmen but you have to find the right balance – not happy with what you do, without harming the confidence. He is maybe not happy enough with his performance after the games and sees only what he has not done well, not enough what he has done well," Wenger added.