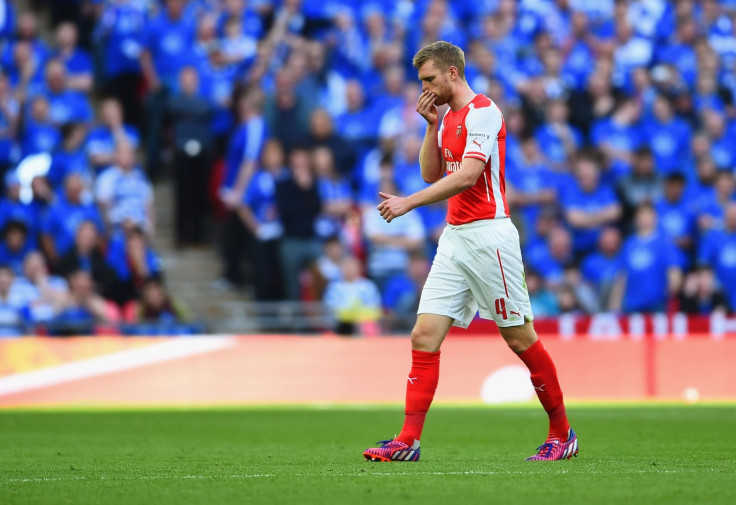 Arsenal vice captain Per Mertesacker has blamed a lack of discipline and concentration for the side's 3-2 defeat home defeat against Olympiacos. The German defender, though, believes the upcoming visit of Manchester United gives the Gunners a good opportunity to put things right.
The Premier League giants arrived for their game expecting to put the embarrassment of their opening CL group game, defeat away to Dinamo Zagreb, behind them, especially after the weekend's impressive win over Leicester City. But Arsene Wenger's boys suffered a shock loss that blew their last 16 hopes away in another dreadful European night at the Emirates Stadium.
Mertesacker, who replaced injured Laurent Koscielny in the second half, was unable to hide his disappointment, admitting that the team's performance was well below the standard required in Europe's premier club competition.
"We lacked concentration and it is not understandable why we drifted and did not do the job we are used to doing. That is not acceptable and we will be punished [for that] in the Champions League," the centre-back said to the club's website. "We need to get behind the ball and play better defensively. We lacked discipline, even when you get a goal back don't rush yourself. Get your discipline back and with possession you get your chances. If we are not disciplined and do not chase the ball we have got no chance."
The veteran defender refused to throw the towel though, and urged his side to make a declaration of intent against the Premier League leaders this Sunday (4 October).
"We have got a couple of days to look back on that performance," continued Mertesacker. "I think everyone will have regrets and it is good to take that away. It will take a couple of days to recover and to think about Manchester United and play in a different competition, which will be a good opportunity to come back to the Emirates and play our football with possession and dynamism."