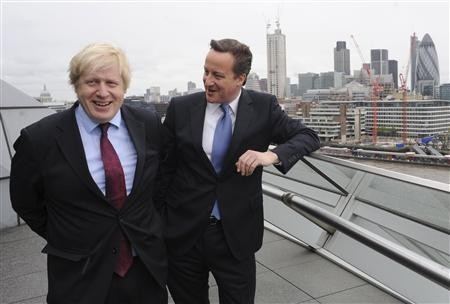 London Mayor Boris Johnson delighted crowds and made Prime Minister David Cameron stew, at the London parade of Olympic athletes.
The prime minister was forced to sit and watch as Johnson stole the show from him with his speech outside Buckingham Palace.
The pair were on stage at the finish of the parade to celebrate TeamGB's Olympic and Paralympic heroes.
While atheletes such as Jessica Ennis were the supposed stars of the procession through central London to Pall Mall, shortly after Johnson stepped away from the microphone, #BorisforPM started trending on Twitter.
Here are a few snippets from the speech Johnson delivered on the Pall Mall roundabout.
"You not only inspired a generation you probably helped to create one as well.
"You are the most successful team ever and your achievements helped bring the country together.
"You caused tube passengers to burst into spontaneous conversation other than being trodden on.
"I've got people behind me who haven't been able to touch a drop of beer so lastly thank you from the bottom of my heart."
The reaction live at the scene can have left Cameron in no doubt about the man widely viewed a prince across the water - a future threat to his position.
The prime minister wore a frozen smile throughout his rival's address, which followed his own.
One tweet on the micro-blogging site by user @thwphipps quipped: "there's an aide in number 10 who's job it is to stop cameron from seeing the #BorisForPM hashtag."
During his speech, Cameron reached for analogies to inspire Britons amid sluggish economic figures.
"Thank you for what is still to come. You promised to inspire a generation and that is what you have done," he said.
"You showed us all that we can be, warm, welcoming, tolerant and vibrant.
"You showed that we can take on the world and win. Let that spirit live on for generations to come."
The on-stage talk-off between the pair follows reports Johnson is plotting a sensational return to parliament.
Details of recent talks between Johnson and environmentalist Tory MP Zac Goldsmith leaked out.
Under plans, Johnson cuold replace Goldsmith who is reportedly close to quitting as MP for Richmond Park.
Goldsmith is reportedly deeply unhappy that opponents of a third runway at Heathrow were sidelined by PM Cameron in last week's reshuffle.
Boris Johnson Outflanks David Cameron Again with Independent Report on Heathrow's Failings