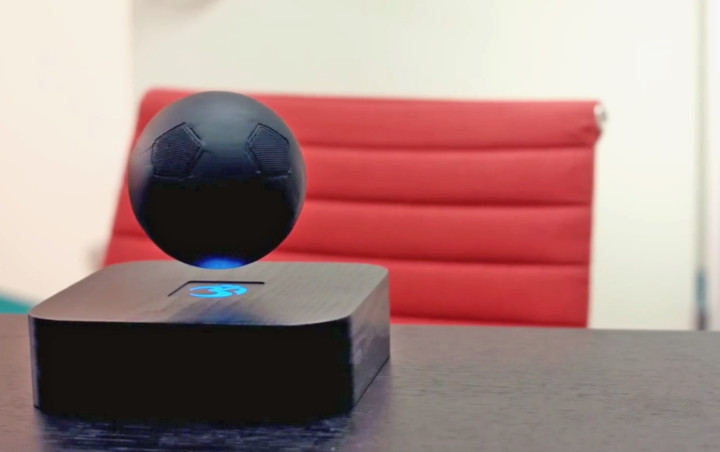 Are you getting bored of your speakers? Do you wish you had speakers that produced beautiful sound but did something cool too? Well perhaps you need Om/One, the world's first levitating Bluetooth speaker.
It might sound unbelievable but we swear Harry Potter hasn't cast "Wingardium Leviosa!" anywhere near this product, which is the brainchild of a new start-up based in Oakland, California.
The Om/One can be synced to your smartphone just like any other wirelessly enabled Bluetooth speaker and is portable, with a 15-hour battery life, but it can also be set up on a base plugged into a wall.
The base contains an electromagnet with the south pole facing upwards, towards the speaker ball.
The speaker, on the other hand, contains a neodymium magnet with its south pole pointing downwards and the two magnets together create an electromagnetic field that is able to support the weight of the ball, which allows it to float.
"I started to see a shift in the industry towards personal music devices. When we recognised the potential for a [levitating speaker] after seeing the prototype, we stopped developing any other products," David DeVillez, CEO and founder of OM Audio said in a video explaining the product.
"I want a product that people will be astonished by, not just by the way that it looks or sounds, but also by the addition it brings to their lifestyles."
Since the speaker floats in the air, it is able to play sounds at 110 decibels, even though the speaker ball only contains a 3-watt amplifier.
Regular Bluetooth speakers that sit on a surface require 10 watts in order to reach the same volume as a lot of the sound goes into the surface.
Om Audio has only just announced Om/One together with a crowdfunding campaign, with the goal of raising $100,000 (£59,866) within two months but it has already completed its goal and even exceeded it in just 24 hours.
The campaign now has 757 backers and has raised $171,908, with 48 days left, and 757 units of the Om/One have so far been pre-ordered.