After enlisting Niall Horan as his caddie for the Masters warm-up tournament, it looks like Rory McIlroy is returning the favour. The world's No.1 golfer is reportedly trying his hand at singing by bringing an end to One Direction's search for Zayn Malik's replacement.
The 25-year-old sportsman will make his pop debut when he joins the band on stage at the Gillette Stadium in Foxborough, Massachusetts on 12 September.
"He's allowed to pick the song, that was part of the deal," Horan told The Sun about the one-off performance. "If I went on the bag with him he would come on stage and sing with us. Apparently he's terrible."
Bradford-born Malik quit the British boyband on 25 March, hours after bowing out of the Asian leg of the world tour citing stress-related health issues.
In his departing statement he claimed that he wanted to feel like a "normal 22-year-old" and had grown tired of 1D's fame.
"I'd like to apologise to the fans if I've let anyone down, but I have to do what feels right in my heart. I am leaving because I want to be a normal 22-year-old who is able to relax and have some private time out of the spotlight," he said.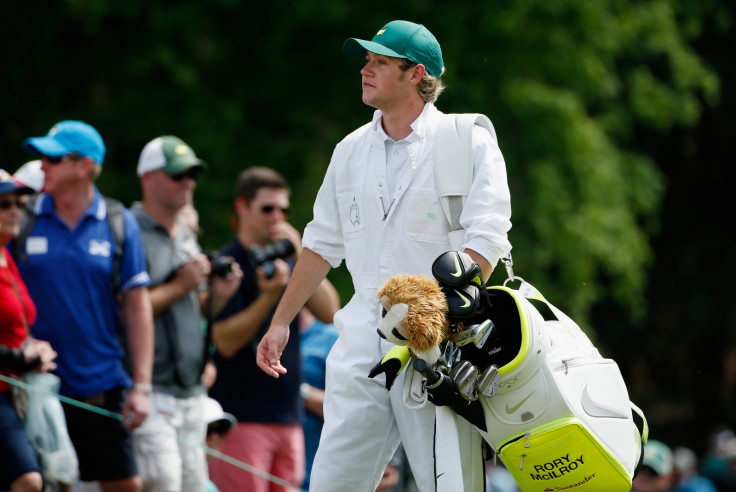 Here's hoping that McIlroy has better luck singing than his pop star pal had at caddying. During an interview between Sky Sports presenter Kirsty Gallacher and McIlroy as the game unfolded, Horan fell over on live television.
Although the embarrassing stumble only lasted a few seconds, it quickly went viral online and prompted widespread mockery.
An unimpressed Piers Morgan took to Twitter, writing "So far @NiallOfficial, I've watched you hit it in the water & fall over. Think I'll go to bed before things get even worse! #Augusta".
But the Irish 21-year-old hit back by saying "@piersmorgan when was the last time you caddied at the par 3 at the masters piers? Oh yeh never ! Back to bed old man!"