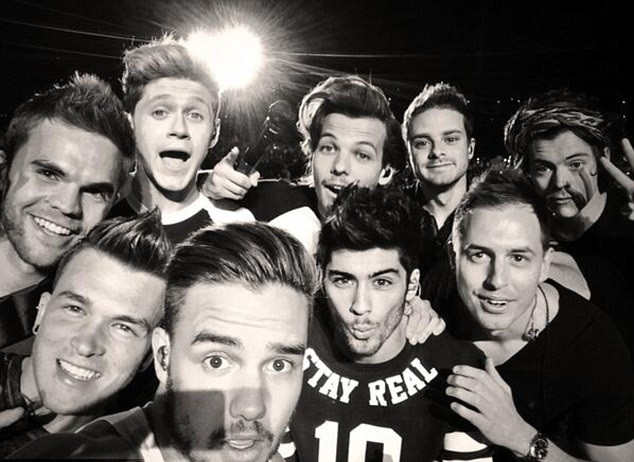 They are the most photographed band in the world but that didn't stop One Direction turning the camera on themselves for their very own celebrity selfie.
The British boy group, who recently embarked on their Where We Are world stadium tour, took the selfie with members of their live band on stage in Santiago.
The image, which was taken by Liam Payne has been liked 350,000 times, re-tweeted 21,658 times and favourited 36,444 times and generated 30,000 comments.
The trend for celebrity selfies was kick-started by Ellen Degeneres famous Oscars selfie, which featured A list stars Meryl Streep, Bradley Cooper, Brad Pitt, Jennifer Lawrence, Jared Leto and Kevin Spacey.
The photo became the most retweeted image ever and caused social networking site Twitter to crash.
Meanwhile, the One Direction boys have been struggling to sleep at their hotel rooms as screaming fans have been keeping them awake at night.
Liam Payne, Harry Styles, Niall Horan, Zayn Malik and Louis Tomlinson were told not to return to their rooms at the Belmond Palacio Nazarenas in Cusco, Peru after a sightseeing trip to the ancient Machu Picchu ruins.
250 fans had occupied the square outside the hotel and as 25 police officers attempted to disperse them, it was decided to relocate the band.
The band members have said they have been overwhelmed by the reception they have received during the first shows of their Where We Are World Tour.