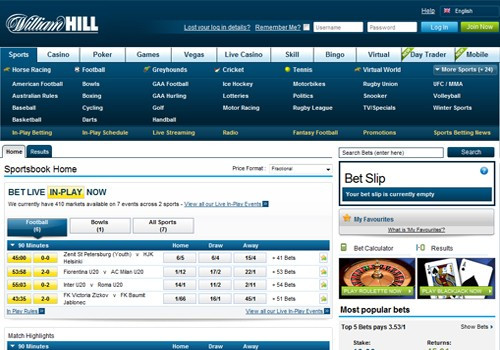 Britain's largest bookmaker William Hill posted a 13 percent jump in its half-yearly profits contributed mainly by growth in its online business.
First half profits before tax rose to £143.3m ($225m) with diluted earnings per share at 13.9 pence.
The company owns 2,370 betting shops in Britain and has a growing online and mobile business. Though the company is fast expanding overseas, 90 percent of its revenues are generated in Britain.
"Our rapidly growing mobile business increased to 22 percent of our online sports betting turnover and 11 percent of gaming net revenue in the first half," said Chief Executive Ralph Topping in a statement.
The company said it was in line with its full-year targets.
"With further innovation to come, the group is in good shape and the board remains confident of its expectations for the full year," Topping said.
William Hill's half-yearly revenue rose to 11 percent at £627.8m out of which its online business alone contributed £198.4m, a third of the group's revenue.
The company's online business is seeing heavy investment as the number of people who use their smartphone to place bets is increasing. Mobile customers account for nearly 20 percent of the total online business.
"Mobile remains a top priority and continues to outperform our expectation," said Topping.
William Hills's high street division even outweighed its online peer in terms of revenue with a 5 percent jump to £417.4m.
"We have seen a strong performance in our multi-channel UK business in the first half, with a good performance from both [over-the-counter] and machines in retail, and with our focus on innovation and investment continuing to deliver outstanding growth at William Hill Online," Topping said.
William Hill shares have risen nearly 30 percent over the past six months.