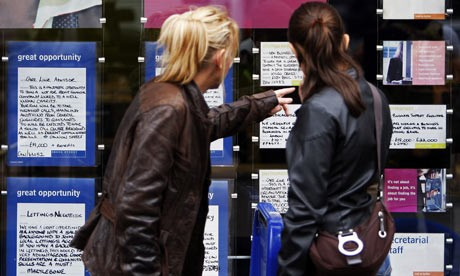 The UK's unemployment rate fell to 7.7 percent in the three months to November, a drop of 0.1 percent on the previous quarter, despite the ongoing economic malaise.
Office for National Statistics figures also show that, in the same period, the employment rate rose to 71.4 percent, taking the number of people in work up to 29.68m.
It is a rise of 0.1 percent on the previous three months.
Total pay, excluding bonuses, rose by 1.4 percent in the three-month period, still short of CPI inflation.
The claimant count, which gauges the number of people in the UK economy claiming Job Seeker's Allowance, fell by 12,100 to 1.56m people in December.
Britain's labour market has been hailed as robust in the face of domestic recession and global economic crisis, because the employment level has remained steady.
However, the ONS statistics use a broad definition of employment and count those who work as little as one hour a week into their figures.
The latest official data for underemployment - those who work fewer hours than they want to - shows that it has soared by 1m since the 2008 financial crisis.
This constitutes a 47.3 percent increase and reflects the underlying problem in the UK labour market; although employment may be high considering the economic downturn, many people are not working a sufficient amount of hours.
Throughout 2013 the UK economy is forecast to return to marginal growth as it embarks on a slow recovery, which could take until the end of the decade until GDP reaches pre-crisis levels.
Worse-than-expected data from the final quarter of 2012 suggests the economy is weaker than some thought.
A contraction is expected from the fourth quarter GDP reading, raising the spectre of an unprecedented triple-dip recession.
Most economists forecast fractional growth of 0.1 percent in the first quarter of 2013, but poor weather in January and a frailer underlying economy than expected bring the triple-dip prospect closer to reality than previously thought.
---
Follow @shanecroucher