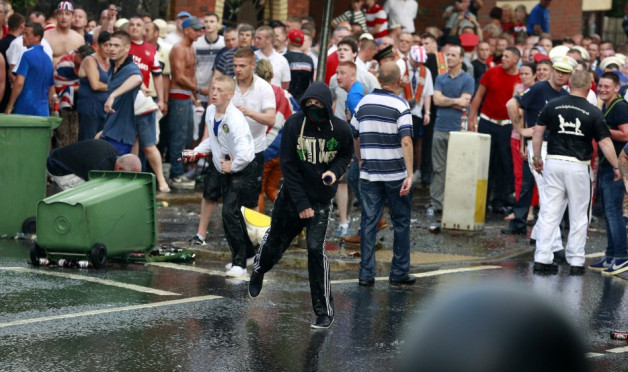 Dozens of police officers were injured and an MP knocked unconscious during a night of rioting in north Belfast, after loyalists were prevented from marching along a flashpoint strip of road.
Clashes broke out when police enforced a ban on members of the Protestant Orange Order from marching down a small stretch of the Crumlin Road, which separates the Protestant and Catholic communities.
The Orange Order had called for protests after the country's Parades Commission denied permission for the annual 12 July parade to pass the Ardoyne section of the road on Friday evening.
Police fired water cannon and plastic baton rounds after coming under a barrage of bricks, fireworks and petrol bombs as they moved to halt the protest at the junction of Woodvale Road and Woodvale Parade.
Some protesters were armed with ceremonial swords as well as other weapons.
Nigel Dodds, the MP for North Belfast, was hit by a missile thrown from loyalist lines, while families and children were also caught up in the violence. One woman was hit by plastic baton round.
Northern Ireland executive minister Nelson McCausland, who was with Dodds when he was hurt, said the MP was "now conscious".
Dodds was taken for treatment at the Royal Victoria Hospital in Belfast and was later discharged.
Another witness, who administered first aid to Dodds, said: "I was standing right beside him listening to his conversation.
"He grasped his head as he went down. He was knocked out cold. I put him in the recovery position and checked his airway. A crowd gathered and then the ambulance arrived and he was taken away by ambulance. I felt sorry for the fella.
"He was unlucky because he was also hit by water cannon as I was trying to administer first aid and he got soaked."
Dodds had made an appeal for calm shortly before he was injured. "People who want to engage in violence should desist immediately," he had said.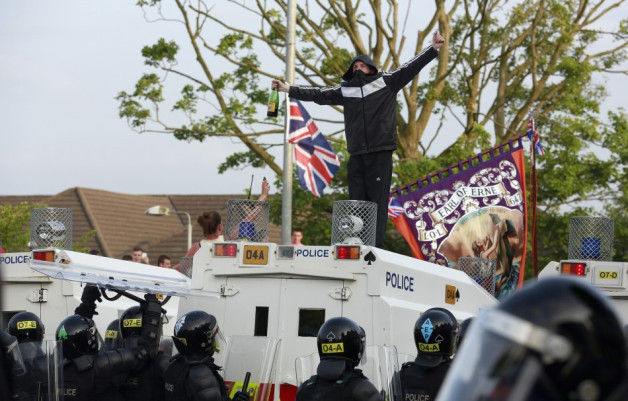 Orange Order lodges in north Belfast had been allowed to march along the Crumlin Road past Ardoyne shops on Friday morning, but had been prevented from returning by the same route in the evening after a ruling by the Parades Commission.
In past years, decisions to allow the order to pass down the contested strip of road have provoked violence from the republican side.
The order later suspended its protest. However, loyalists do not always heed the calls of order's leadership, and many fearing the "genie was out of the bottle".
Missiles were hurled as the parade passed St Matthew's Catholic church, with clashes also reported on the Newtownards Road in east Belfast, where police lines came under attack from petrol bombs.
Northern Ireland First Minister Peter Robinson, the leader of the Democratic Unionist Party, appealed for "cool heads", saying his thoughts were with those "who have been injured this evening, including my colleague Nigel Dodds".
The Grand Orange Lodge of Ireland also called for calm.
Sinn Fein assembly member Gerry Kelly singled out the Orange Order and unionist politicians for blame, saying their strategy produced "inevitable results".
Watch loyalist rioting in Belfast