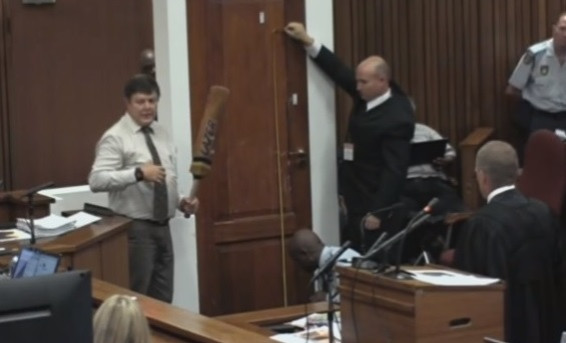 The toilet door through which Oscar Pistorius unleashed a hail of bullets which killed Reeva Steenkamp has been presented at his murder trial.
The brown wood door appeared to be in good condition after having had four bullets fired through it and after being bashed with a cricket bat by Pistorius.
The door was shown in evidence along with the cricket bat Pistorius allegedly used to smash it open during the fatal incident.
Police officer Lt Col Vermeulen said the marks on the door made by Pistorius with his 'Laser English Willow club plus' bat indicated the disabled runner did not have his prosthetic legs on when he smashed the door.
"The marks on the door is consistent with not having his legs on and I suspect it must be similar to the height when he fired the shots," said Vermeulen under questioning from prosecution lawyer Gerrie Nel.
The Laser bat Pistorius used had the signatures of some unidentified famous sport stars.
Vermeulen pointed out other marks on the door, just below the lock which was suspicious, but he was not able to confirm it was caused by the bat. He said it was "very difficult" to say how they got there."
Pistorius's lawyer Barry Roux said additional marks had appeared on the door since the time it was photographed by investigators in the aftermath of the shooting.
Roux also claimed pieces of the door were missing, raising the possibility he will attempt to argue police bungled the investigation into Reeva Steenkamp's killing at the Olympian and Paralympian's luxury home on the outskirts of Pretoria.
Pistorius denies murder. He also faces up to four firearms charges. The trial continues.