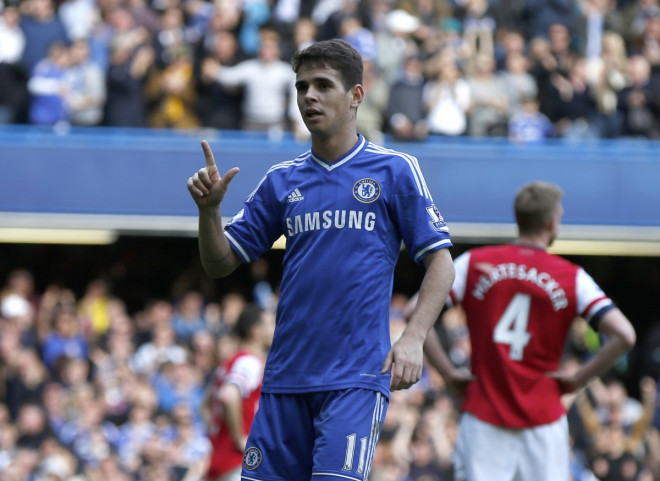 Chelsea playmaker Oscar has admitted that Jose Mourinho's massive confidence has made him one of the best players in the world.
The Blues signed the Brazil international for a fee understood to be about £25m in summer 2012.
After making a good impression in his debut campaign at Stamford Bridge, both under Roberto Di Matteo and Rafa Benitez, Oscar has found his peak form with Mourinho this season, having already scored eight Premier League goals.
"Mourinho has given me more confidence, he has shown me that I can be one of the best. I have grown with him and I hope to keep getting better until the end of the season and win the title," Oscar told the Evening Standard.
"I think I'm at my best [now]. I am playing well and the team are challenging at the top of the League. Mourinho has his way of playing and sometimes we alternate a bit because we're playing so many games. But it's normal and I feel I'm in my prime right now."
With Hazard expected to be sidelined for a minimum of two weeks after he suffered an injury in the Champions League victory over Paris Saint Germain, Oscar should assume responsibility alongside teammates Andre Shurrle and Willian in the playmaker position.
Meanwhile, Willian himself is confident about avoiding another defeat away this Sunday, when Chelsea will travel to the Liberty Stadium to play against Swansea.
"I know that we have lost against some teams we shouldn't have but the League is not over yet and nothing has been decided. We don't think like that. We have games left and the chance is still there for us to win it. It's important for us to get our heads up quickly," the Brazilian playmaker said.
"I feel like I have adapted well and I'm hoping to improve even further. I want to score more goals for the team but our main objective hasn't been achieved yet — to be champions."