When news emerged of this year's goodie bag for Oscar nominees, director Mike Leigh – himself nominated five times in the past – went public to express his incredulity at one of the items included – a $55,000 VIP trip to Israel.
Leigh urged star actors and directors to turn down the government-sponsored freebie, or hand it over to one of the world's 4.8 million Palestinian refugees.
"A five-star trip to the land of their parents and grandparents is just what exhausted Palestinians from the refugee camps could do with," he said. "I think the world would be happy to see Israeli government money used for once to make reparations to Palestinians."
Ken Loach, Bafta nominee and Palme d'Or winner, agreed. "Just think what $55,000 could do for Palestinians whose homes have been destroyed and their lands stolen," Loach said. "Let's hope that film people can see through this crude propaganda."
Leigh and Loach are among more than 1,100 UK artists who have pledged not to engage professionally with Israeli state institutions while Palestinian rights are denied. Israel's cultural ties with the rest of the world is one of the state's most potent weapons in its drive to sanitise its image, tarnished by decades of violent occupation, settlement and systematic racist discrimination.
Artists for Palestine UK, which launched the pledge a year ago, said:
"Any Oscar nominee taking up the offer will find themselves working as an unpaid stooge in an extended 10-day photo opportunity on behalf of a government that breaks international law, violates human rights and has been credibly accused of war crimes."
Israeli activist Ronnie Barkan, from the pro-BDS group Boycott from Within, noted: "The holiday freebie, worth twice the average Israeli annual wage, is the priciest item in this year's record-value swagbag and illustrates the desperation of the state's propagandists."
The UK pledge signatories include Oscar nominated actor Mark Rylance and director Asif Kapadia – so that's at least two people who will not be succumbing to Israeli bribery. Mark Ruffalo, nominated as best actor for his role in Spotlight, has also expressed his support for Palestinians in the past.
Slipping a holiday in a country increasingly regarded by some as an apartheid state into the Oscar nominees' swagbag is just the latest salvo in Israel's cultural PR war. Back in 2005, then Foreign Ministry spokesman Nissim Ben-Sheetrit, explained the Brand Israel strategy:
"We see culture as a propaganda tool of the first rank, and I do not differentiate between propaganda and culture."
When expressing his hopes for the celebrity trips Israel's tourism minister, Yariv Levin, said: "These are the most senior people in the film industry in Hollywood and leading opinion-formers who we are interested in hosting."
This same government official supports the expansion of illegal Israeli settlements and opposes the creation of a Palestinian state.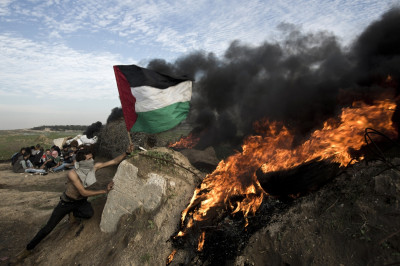 Israel's intense cultural branding campaign looks like it may be starting to backfire. The inclusion of the VIP trip in a swagbag containing other random items such as a "Vampire Breast Lift", a lifetime supply of Lizora skin creams and a sex toy (female nominees only), has attracted widespread ridicule and opposition.
British entertainer Jeremy Hardy said: "Given that cosmetic treatments are included in these party bags, it's not surprising that an attempt to falsify the ugly reality of Israeli policy is part of this package of delusion and fantasy."
Brian Eno, musician and composer, suggested an alternative swag bag offering, among other elements: 'Visit Palestine! Enjoy a tear-gas filled weekend in an East Jerusalem ghetto!'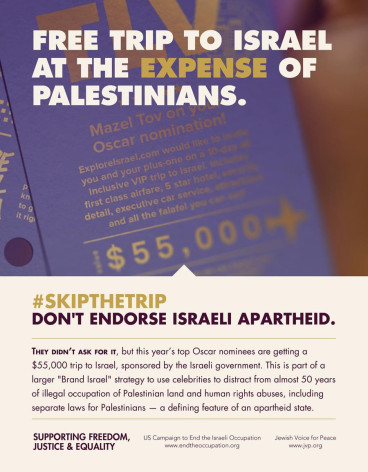 In a move welcomed by Palestinians, the whole tawdry package has been called into question by the Academy, which awards the coveted Oscar statuettes, filing a suit against the Los Angeles firm that puts together goody bags for celebrities.
"Last year, the Academy attempted to address Distinctive Assets' false and infringing representation without litigation. We had no choice but to file a lawsuit," an Academy spokesperson was reported as saying in Variety magazine.
Variety has since refused to print a paid advertisement denouncing the swagbag. It was put together by two US organisations which support the Palestinian call for Boycott, Divestment and Sanctions (Jewish Voice for Peace and the US Campaign to End the Israeli Occupation) in pursuit of their campaign for freedom, justice and equality.
The ad has, however, appeared in the Los Angeles Times, five days before Hollywood's stars assemble in the city for the Oscar ceremony.
Given that the Oscars are already under attack from campaigners using the hashtag #OscarsSoWhite to draw attention to the lack of non-white nominees for two years in a row, the Academy can well do without a swagbag linking its name – albeit unofficially – with Israel's racial and ethnic privilege.
---
Naomi Wimborne-Idrissi is a member of the Artists for Palestine UK collective and secretary of Jews for Boycotting Israeli Goods.
---