Our Kind Of Traitor: Ewan McGregor and Stellan Skarsgård talk men, money and mafia in new clip
Fans of The Night Manager, take note... StudioCanal have released a clip that sheds light on how Ewan McGregor's character Perry gets involved with the Russian mafia and a covert British intelligence mission, ahead of the movie release of spy thriller Our Kind Of Traitor on 13 May.
Based on the titular John le Carré novel (as was the aforementioned BBC TV series), the film follows Perry and girlfriend Gail (Naomie Harris) on holiday in Marrakech, becoming acquainted with the exuberant and charismatic Russian, Dima (Stellan Skarsgård). Unbeknownst to them, Dima is an expert money launderer who works on behalf of the Russian mafia.
When Dima involves them in his schemes, asking them to deliver classified information to British secret services, the couple find themselves entangled in "international espionage and dirty politics." Perry and Gail embark on a journey through France and Switzerland, to London, forming an alliance with ruthless MI6 agent Hector (Damian Lewis).
The clip illustrates how Dima influences Perry to become embroiled in his plans, with the two men meet on a building rooftop while fireworks go off in the distance. During the tense display, Dima pleads with Perry to help deliver a memory stick with details of the Russian mafia's mobster antics, in the hope that giving up such information will help the Russian defect to England.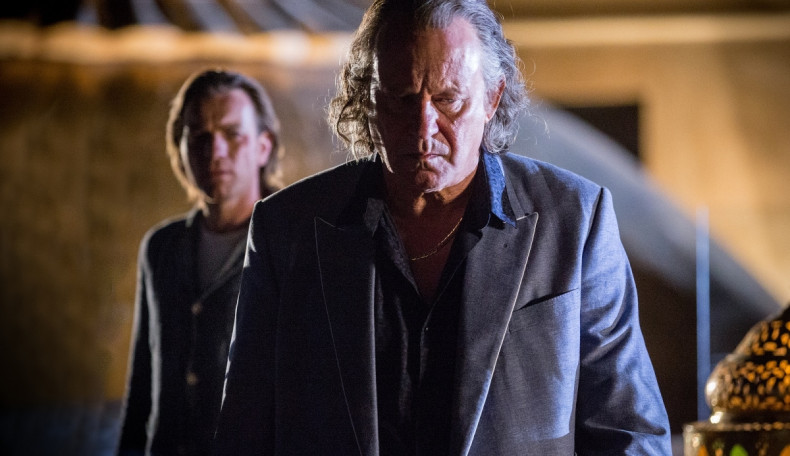 Why are his motives so desperate, you may wonder? Dima seeks to escape the inevitable dangers of his current circle, saving his family, and himself, from being killed for being too knowledgeable about mafia leader The Prince's plans.
Screenwriter Hossein Amini, best known for penning the script for Oscar-nominated drama Drive, adapted the story from the popular source material while Susanna White (Parade's End) directed the picture. Our Kind Of Traitor is released in UK cinemas on 13 May, and is currently set to reach big screens in the US on 1 July.
For more entertainment news follow A-List on Twitter @Alistinsider