When crime drama Blue Ruin was released in 2013, it was described by many as grippingly dark and moody, complete with its own unique sense of sick humour. Now, writer and director Jeremy Saulnier of the critically-acclaimed film returns to independent cinema in the same dual capacity for just as off-the-wall (and no, we're not talking about Vans trainers), horror thriller Green Room, starring Patrick Stewart and Anton Yelchin.
Finishing up their current tour, underground punk-rock band the Ain't Rights begrudgingly accept to play a gig at a dingy venue deep in the woods of Portland, Oregon before heading home. The reason for their reluctance? Well, the club is known as the local jaunt for all of the city's neo-Nazi skinheads to congregate and share in their right-wing ("technically ultra left") beliefs. Sounds like a gas, right? You'd be correct in thinking "no" but quite frankly, the residents' political backgrounds are the least of the band's worries...
Playing up to their anarchistic image, the foursome take to the stage and immediately perform a cover of Dead Kennedy's Nazi Punks F*** Off to a less-than-welcoming crowd but soon their balls of steel win over the audience and both band and baldies are bouncing blissfully; one on their elevated platform, the other in a mosh-pit.
Thinking everything has gone smoothly, the Ain't Rights begin rounding up their kit. But after stumbling across a grisly murder backstage, they soon find themselves holed up in the green room as they realise the club's diabolical owner, Darcy Banker (Stewart) will do anything to protect the secrets of his criminal movement. But while Banker and his hardened henchmen think the band will be easy to get rid of, the Ain't Rights prove themselves much more cunning and capable than they themselves expected and stand up to their unsuspecting captors, entering into the ultimate life-or-death showdown.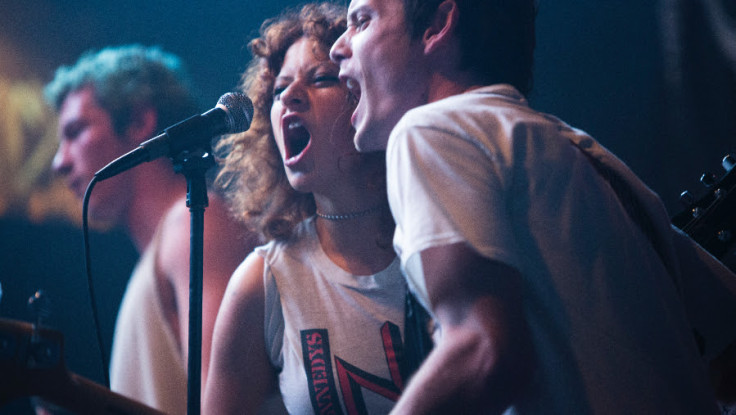 Our verdict
"It won't end well," Stewart's ringleader matter-of-factly states through the green room door at Pat, Sam and the rest of the Ain't Rights as he tries to convince them that abiding by his rules is the wisest decision they can make, now that they've witnessed a killing on his premises. A foreboding monologue that sets the tone for the entire movie and from that moment, you're painfully aware that not all of the film's unlikely heroes will make it out in one piece. Heck, as the violence really ups the ante towards the middle of the movie, you become increasingly curious as to whether any of them even will.
Occasionally, said violence slips into the realms of gratuitous − you see people mauled by pitbulls, slashed with Stanley knives, punched, shot and sprayed with fire extinguishers − but such imagery comes with the territory of the culture presented and fortunately, Saulnier's charged screenplay moves everything on quickly enough to get away with it all.
To deliver such a comprehensive piece of cinema using a low-budget is itself a true testament to the filmmaker, but it's quite evident that this exact piece was made for unpretentious claustrophobic sets like this one. The personification of penned in, the Ain't Rights' ominous sitting-duck situation is emphasised by the black woods that surround the club, the serpentine halls that encase the room and play host to Banker's gang and lastly, by the over-cluttered, graffiti'd green room they're cooped up in.
The actors match their surroundings with effect, too, with biggest name on the roster Stewart's skills being constantly equalled by Yelchin's endearing yet terrible pep-talker Pat or Alia Shawkat's headstrong motor-mouth Sam. Even Peaky Blinders' Joe Cole brings real personality to his impulsively protective Reece, despite not being given much screen time.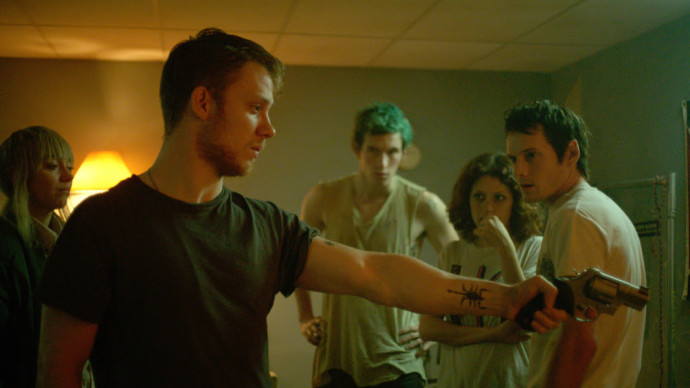 Obviously relishing the opportunity to play a truly evil character for once, the ease with which Stewart's pragmatic Banker makes calculated decisions on the fate of the band is where his menace lies. Although it can't help but be thought that to see him lose it towards the end as he becomes more and more desperate would have made for a frightening turn of character and jacked the tension up even higher than it had been previously.
To get the most out of the movie, it's fair to say the less you know about it going in, the better. If the events that unfold are forced to hit you in the face, rather than merely live up to your already existing expectations (which they do, but that's beside the point), then it's going to pack much more of a shocking wallop.
Styled like an eerie cross between The Runaways and Drive, with a huge splashing of The Hills Have Eyes − if the incestuous "mutants" wore bomber jackets and red-laced Doc Marten's, that is − Green Room is almost impossible to define. Not quite a horror, as it succeeds in landing a few jokes at the most unexpected moments, but yet it certainly makes for a truly nightmarish and blood-soaked 94 minutes.
Could it even be called a thriller? When its focus is not necessarily on action but reaction, as every single one of the band's attempts at escape soon go south and they have to retreat back to their sanctuary and concoct yet another plan. But that's the wonder that almost seems synonymous to indie cinema, it doesn't have to be one or the other and whatever it is, this funny little gem is more than worth a watch. Mark our words, Green Room will likely become a huge sleeper hit amongst those who like their stories wholeheartedly emotional and original.