Ousmane Dembele tells Barcelona fans he will return in 'two months' following surgery
Earlier this week the Catalans said that the Frenchman was going to be out for three-and-a-half months.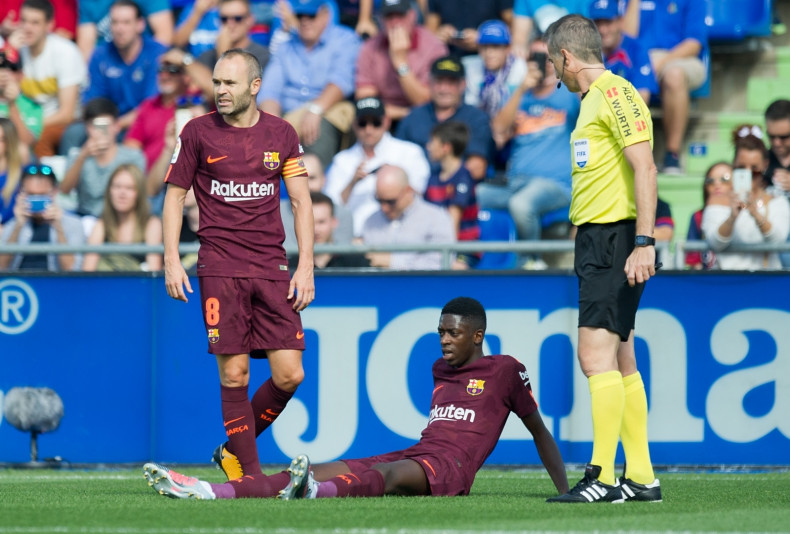 Ousmane Dembele has given Barcelona fans reasons to be optimistic after suggesting that he could be back from his recent muscle injury in two months – although he has failed to specify whether the new timeline includes a period of training before his comeback.
The 20-year-old winger moved to the Nou Camp from Borussia Dortmund in a deal worth €105m (£93.2m, $125m) plus €40m in add-ons in the summer with hopes of filling the gap left by the departure of Neymar to Paris Saint-Germain.
However, his move to the La Liga giants suffered a massive blow after the Frenchman ruptured the "tendon in his femoral bicep in his left thigh" during Barcelona's 2-1 victory over Getafe on 16 September.
Scans initially ruled him out for up to four months but earlier this week Barcelona said that he could be back in three-and-a-half months after the player underwent surgery to correct the problem in Finland.
"FC Barcelona striker Ousmane Dembélé was successfully operated on Tuesday to repair a ruptured biceps femoris in his left leg. Dr. Sakari Orava performed the surgery. Dembélé remains under the supervision of Dr. Ricard Pruna. He is expected to be out for three and a half months Barcelona confirmed on Tuesday though an official statement.
That meant that Dembele was expecting to be out of action until next year, missing around 20 games, including the first El Clasico of La Liga at Real Madrid on 23 December.
But Dembele has provided a surprising positive update on his Instagram account after claiming that he hopes to be back in only two months.
The Frenchman posted a picture of his teammates wearing a t-shirt with the message "Courage Ousmane" before their Tuesday's 6-1 victory over Eibar. The image added several hashtags with one of them implying he will return in "two months".
Dembele failed to specify whether he expects to be then ready to play in two months, or if the new date represents when he will return to training.
One way or another the news provides some encouragement for Barcelona fans as it suggests that their record signing could return ahead of schedule, and may even ready to play when the Catalans visit Real Madrid on 23 December.