Paris Saint-Germain star Dani Alves has backed Paulinho to prove the doubters wrongs and become a "bargain signing" for Barcelona.
Paulinho, 29, moved to Chinese outfit Guangzhou Evergrande in the summer of 2015 following a disappointing two-season spell at Tottenham Hotspur.
The Spurs flop managed to resurrect his career in the Chinese Super League and eventually earned a place back in the Brazil national team alongside Alves.
However, Barcelona's interest in his services came as a big surprise this summer, with many fans questioning whether his aggressive style was going to suit the Catalans' tiki-taka.
Ernesto Valverde's side had been trying to lure the talented Marco Verratti from PSG prior to stepping up the negotiations to sign the Brazilian midfielder.
Barcelona completed his signing from Guangzhou after agreeing to meet the €40m (£35.4m, $48m) release clause in full.
Many fans then questioned the Catalans' decision due to the outlay, the age, the style and his previous nightmare spell in Europe while playing for Tottenham.
However, Paulinho has enjoyed an impressive start to the life at the Nou Camp, scoring two goals and grabbing one assist in five appearances.
On weekend the Brazilian midfielder scored the winner against Getafe after coming off the bench. On Tuesday night helped the Catalans secure a 6-1 victory over Eibar in his first starting appearance, netting the second goal of the game before assisting Lionel Messi for the fifth.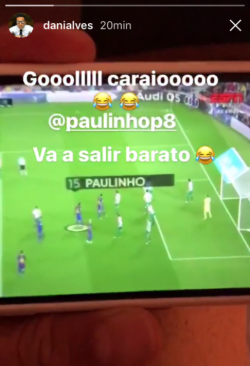 Former Barcelona star Alves took to Instagram to post a video of Paulinho goal with an encouraging message for Catalan fans: "Gooollll caraiooooo [wow]. He will end up having been a cheap signing".
Paulinho left the Nou Camp delighted and thanked his Barcelona teammates for the welcomed he has received.
"I am very grateful for how I have been welcomed at Barcelona," he explained. "Playing with great players makes me happy and they have been good in helping me adapt."
"I am happy with the affection everyone is showing me but the only way to respond to that is by playing well and helping my teammates in order to reach our objectives."