Outlander's leading lady Claire Randall may have escaped the Red Coats this time, but her battle back in time has only just begun.
By the end of the series premiere, Claire (Caitriona Balfe) found herself in the company of a group of Scottish soldiers, including an injured Jamie (Sam Heughan), who she nursed, thanks to her modern-day medical training.
While Claire came up with a cover-story for her background, she'll have to watch out in order to survive as Scottish mates are not fans of British ladies.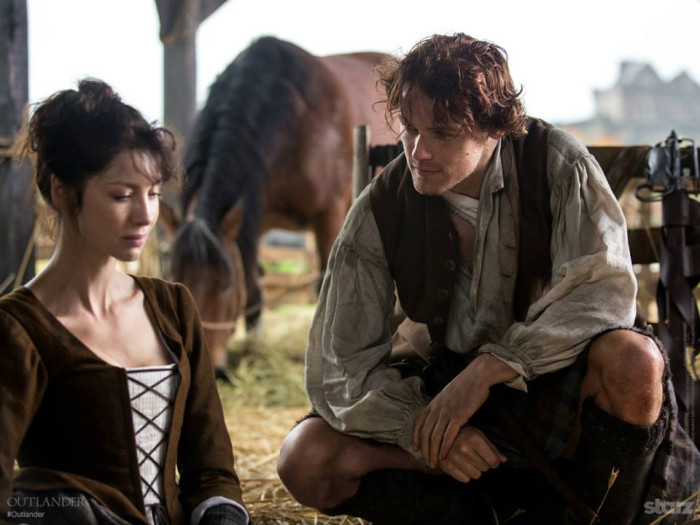 In a sneak peek of episode 2 of Outlander, titled Castle Leoch, Claire and her new-found escorts from the clan MacKenzie make their way back home to the castle Leoch, and Laird Colum MacKenzie presides over the area.
In the clip, Laoghaire, a girl whose father swears fealty to the clan MacKenzie, is going to be publicly punished for embarrassing him, so Jamie steps in to take her punishment for her.
Watch the Sneek Peek
The official synopsis of episode 2 on TV.com reads: "Claire is introduced to the laird, but suspicions about her grow as she makes a friend of the mysterious Geillis Duncan and the clan discovers her skills at healing."
Starz has the first season split up into two parts, the first eight episodes will air this summer, and the second half will air sometime next year.
Based on a series of books by Diana Gabaldon, Outlander was adapted by Ronald D Moore, and stars Caitriona Balfe, Sam Heughan, Graham McTavish and Tobias Menzies.
The next episode of Outlander airs on Saturday at 9:00 pm ET on Starz.
Click to watch the episode here.