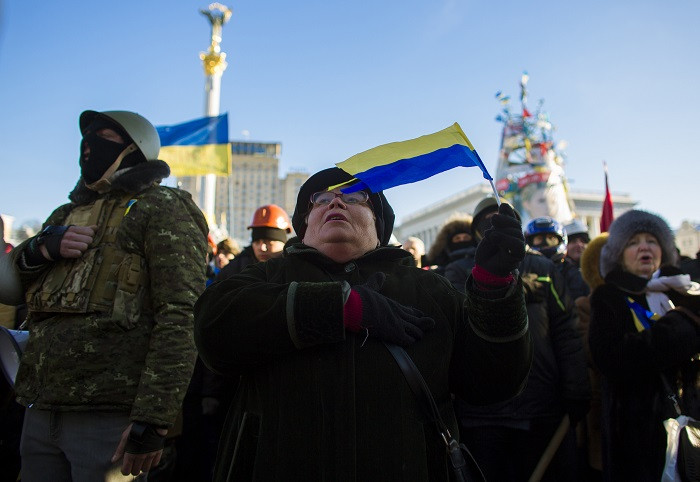 Over 50,000 demonstrators gathered in Ukraine's capital Kiev on Sunday repeating their calls for embattled President Viktor Yanukovych to resign.
High-profile opposition figures including former foreign minister Arseniy Yatsenyuk and ex-boxer Vitali Klitschko spoke to demonstrators, urging them to press ahead with their demands.
Yatsenyuk also called for the Ukrainian government to release 116 protesters reportedly being held. "We must free all – freedom to every hero," he said.
Klitschko said the detainees were "hostages" and called for the government to abolish an amnesty law approved by Yanukovych last week that only allows protesters to be released if official buildings are vacated within two weeks.
The latest rally comes a day after the opposition protest movement received support from Western leaders including US Secretary of State John Kerry at the Munich Security Conference on Saturday.
Klitschko, who attended the security conference, told the crowd of protesters that he has requested international mediation in the opposition's negotiations with Yanukovych, so "there are no misunderstandings".
Yatsenyuk added: "We spoke to our Western partners and told them that we need real financial aid.
"They are ready to do it. By 'we', I mean the Ukrainian people. Not a single kopeck should go to the Yanukovych regime."
Ukraine is battling a crippling recession and Russia has put on hold a $15bn bailout package until a new government is formed.
The protest movement is also calling for a presidential election scheduled for 2015 to be brought forward to 2014.
Yanukovych's office announced on Sunday that the president would return to work on Monday after going on leave on Thursday due to an illness.
"The president of Ukraine is feeling well, his health is satisfactory," the president's office said in a statement. "Viktor Yanukovych intends to return to work on Monday."
Last month, Ukrainian Prime Minister Mykola Azarov suggested that security services could use even more extreme force to end the protests under new laws that came into force in January.