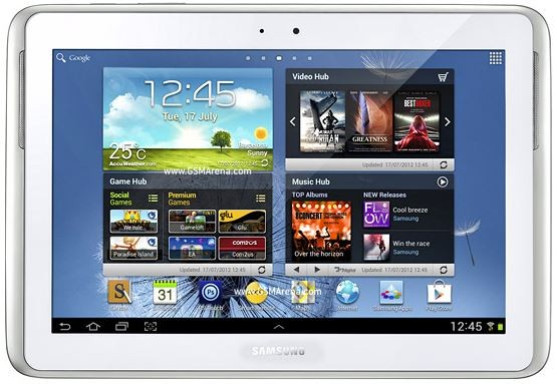 Samsung Galaxy Note 10.1 is one of the fastest tablets available, thanks to its powerful quad-core Exynos 1.4GHz processor. Given its power-crunching capability, the tablet can handle both multimedia and gaming better than many rival machines.
Nevertheless, power users may soon yearn for more performance from the 1.4GHz monster. Such users could try flashing this Odin Kernel to enable processor overclocking capability on their devices. Thanks to XDA forum member brieuwers, you can now push your Galaxy Note 10.1 (3G variant) up to 1.6GHz using an overclockable kernel.
Key Points to Note
Overclocking a processor is risky and may cause serious damage to the device if done incorrectly. The overclocking ability of your device depends on various factors such as the software being used, cooling agents and the status of other hardware components installed on the device. So, users are advised to try a lower overclocking value such as 1.5GHz if the device becomes unstable at 1.6GHz or higher values.
The kernel and the installation steps in the guide are only applicable for the Galaxy Note 10.1 Wi-Fi+3G variant (N8000 model) and will not work with any other device. Verify your device's model number by navigating to Settings > About phone.
IBTimes UK advises users to backup apps, important data and settings to avoid data loss while installing the overclockable kernel on your device.
Download and install the correct USB drivers for your tablet on the computer (Download Drivers).
The instructions provided in this guide are meant for reference purpose only and do not cover any warranty claims involving device damage or issues arising out of using this kernel software. Users are advised to proceed at their own risk.
How to Install Overclock Kernel with Odin on Galaxy Note 10.1
Step 1: Download the overclock kernel from XDA Developers' official page (Download here). The downloaded file will have a .tar or .md5 extension.
Step 2: Download Odin 1.85 from here.
Step 3: Extract the contents of Odin 1.85.zip file to a desired folder or location on the tablet.
Step 4: Launch Odin - double-click the Odin3 v1.85.exe that you obtained after extracting the Odin zip file.
Step 5: Unplug the tablet from the computer (if it's connected) and power it off. Then boot into ODIN by entering download mode on the tablet. To do so, press and hold down Power and Volume Down buttons together till you get a Warning!! message on screen. Now, press Volume Up to progress into download mode.
Step 6: In Odin, click PDA button, then choose the .tar file obtained in step 1. Important! Leave all the settings to default in Odin, except selecting the required file in PDA.
Step 7: Connect your tablet to PC using the USB cable. You should see the message "Added!" under Odin's message box in the bottom left.
If such message did not appear, then it could be an issue with the drivers. Ensure that the correct drivers are installed (check prerequisites).
Step 8: Now, hit Start button in Odin to begin flashing the kernel. Once kernel is flashed, the tablet will reboot automatically, and you will receive a PASS! message in Odin. You can then unplug the tablet from the computer.
Step 9: The overclockable kernel is now installed on your Galaxy Note 10.1. Wait until the tablet powers on and you are all set to overclock the processor using an app such as SetCPU or No-Frills CPU Control or any similar app. You should test different overclock frequencies to find the most stable overclock as the highest frequency may not be the best bet for your tablet.
The kernel is now installed on your Galaxy Note 10.1, which enables you to overclock your tablet up to 1.6GHz.
[Source: The Android Soul]