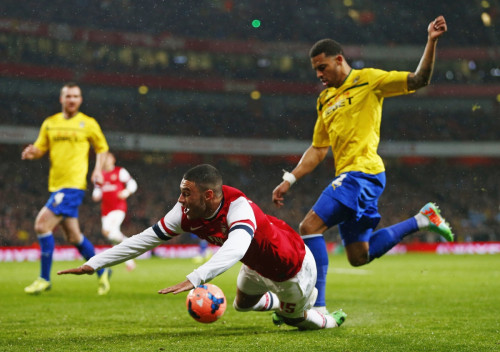 Arsenal midfielder Alex Oxlade-Chamberlain has revealed that the players are trying their best to keep a very high standard in the squad, which has helped them to improve as a team.
The 19-year-old, after coming back from a five month lay-off with injury, made his first start aaginst Coventry City in the fourth round of the FA Cup in a 4-0 win for the Gunners.
The youngster made a mistake in the middle of the park where he lost the ball and allowed opposition striker Leon Clarke a clear shot on goal which could have halved the lead for the Gunners.
The transgression was immediately folowed by an earful from Per Mertesacker who reprimanded Chamberlain for his actions. The presence of senior players in the squad, in the form of Mathieu Flamini, Mikel Arteta and Mertesacker has kept everyone on their toes, failing which this season has resulted in them being berated on the pitch.
Santi Cazorla, who gave the ball away against Aston Villa, which resulted in a goal and Mesut Ozil, who did not address the fans after losing 6-3 to Manchester City are the most recent recipients of the German's chagrin.
"We set each other high standards and if you do something that's not good enough you can bet your bottom dollar that one of your team-mates will tell you when he believes you're better than that," Chamberlain told www.arsenal.com. .
"I gave the ball away and it resulted in them hitting the post. I knew what I did and I knew what I did wrong there and Per just gave me a friendly reminder. That's what you need, you need to keep each other's standards high and we'll be doing it all season.
"But it's important that we do it in the right way, whoever it is. If it's Per he'll have a shout but then afterwards he will come and explain it to you and that's what makes you respond to it. He doesn't do it in a negative way and that's the way we go about it. We just keep doing things positively," he concluded.