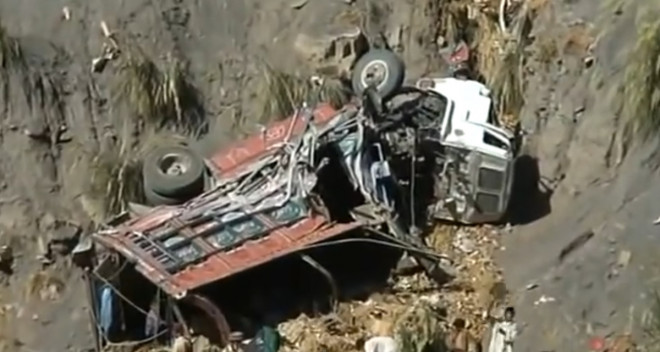 At least 35 people, including women and children, were burned alive when their coaches were involved in a multiple collision on a coastal route in Pakistan.
It is thought the initial crash was a head-on collision between a coach heading for Karachi and a truck. Both vehicles were then hit by the second coach and another truck.
Akber Haripal, a local senior administration official, told AFP: "The bus and the tanker had a head-on collision and the oil tanker turned over, but the situation got worse when a second passenger bus coming from behind rammed into the first bus as it skidded on the oil spilled on the road."
Both passenger buses are thought to have been carrying illegally smuggled Iranian gasoline as well as canisters of diesel, which caught fire. Passengers were then unable to escape the inferno.
Amir Sultan, another local administration official, said: "These passenger buses travelling between Baluchistan and Karachi have automatic hydraulic doors and their windows are sealed because the buses are air conditioned, so most of the passengers were trapped inside."
25 people died at the scene and another 10 on their way to hospital. Sultan said some of the bodies were burned "beyond recognition". As there is no hospital in the vicinity another 20 people had to be taken to Karachi, where they are being treated for burns. It is thought the death toll may rise due to the seriousness of the injuries sustained.
The accident took place near Gadani, 600km south of Quetta in the southern province of Baluchistan. Mohammad Hasan Lehri, a driver who works on the Quetta-Karachi route, said thousands of people are involved in the illegal trade and that even the police get their share of the profits: "It is routine, we are compelled to do this even though it is illegal and dangerous."
Every year thousands of people die in accidents on Pakistan's badly maintained roads.