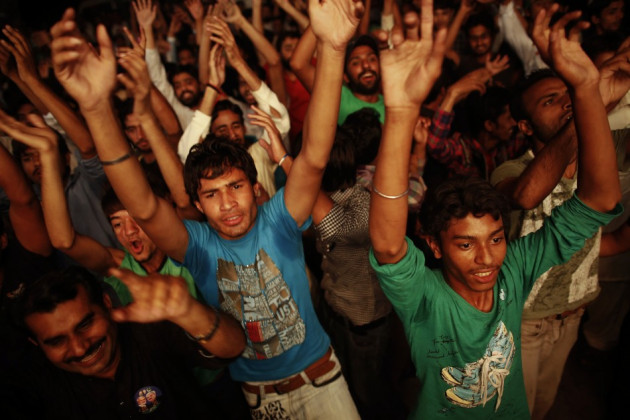 The stage is being set for Nawaz Sharif to lead Pakistan yet again as early polling results predict that his party will emerge as the largest in the landmark parliamentary elections.
Former Prime Minister Sharif has already declared victory based on the preliminary results. Sharif was ousted in a coup in 1999, jailed, and later exiled.
The voters' turnout was nearly 60%, the highest since 1977. The voting was extended for an hour to allow more Pakistanis to cast their votes.
However, the polling day was marred by widespread violence as multiple blasts rip through Pakistan.
Islamic militant group Pakistan Taliban "proudly" claimed responsibility for the bombings that killed more than a dozen across the country.
The election marks the first political transition from one democratically elected administration to another in the 66-year turbulent history of Pakistan.
"Through this vote and campaign, I have felt how much love Pakistan has for me. And I have twice as much love for you. Thank God that he has given us the chance to help you, to help Pakistan, to help the young people. We will fulfil all the promises that we have made," Sharif said in his address to supporters.
The cricketer-turned-politician Imran Khan, who was widely expected to fare well in the elections, failed to make his mark. He conceded defeat in the elections and congratulated Sharif.
The jubilant supporters of the Sharif's Pakistan Muslim League-N (PML-N) have already started celebrating Sharif's victory.
No official results have been announced so far and it is unclear whether the party will secure a majority in the national assembly. According to the initial results, Sharif's party has been leading in 119 out of the 272 directly elected seats.
If the party fails to secure simple majority, the administration will be formed with coalition partners making it difficult for the government to bring in the much-needed economic and political reforms.
Sharif is likely to seek alliance with Islamist parties to form the government.
The new administration in Islamabad will face a huge challenge from domestic corruption, Taliban insurgency, and crumbling infrastructure in leading the nuclear-armed country.
Ahead of the polling, Sharif had pledged the administration will have the upper hand over military.