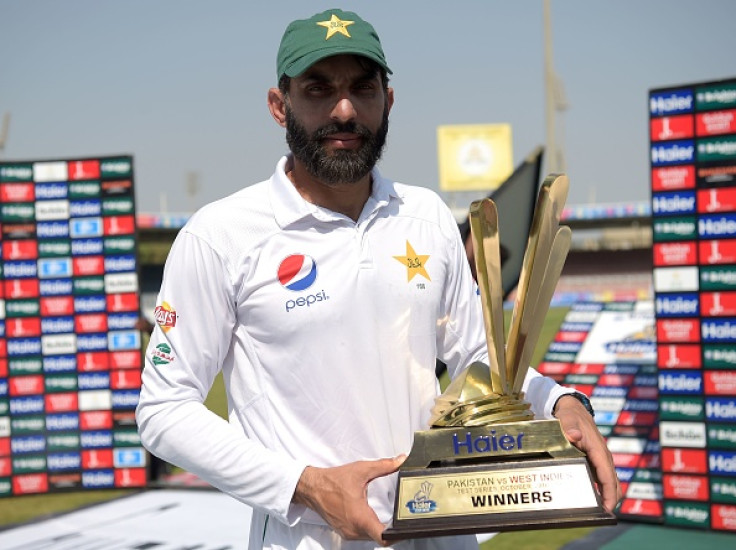 Pakistan Test captain Misbah-ul-Haq has revealed that he will retire from international cricket after the three-match series against West Indies.
Misbah, who had previously retired from one-day international cricket in 2015, announced his decision at a press conference on Thursday (6 April).
"I have achieved a lot in my career," Misbah said, as quoted by CricBuzz. "That is why I decided to retire from T20 Internationals in 2012 and then ODIs after the World Cup 2015."
"And now I think after taking everything into account, this is the best time for me to also retire from Test matches."
The 42-year-old made his Test debut in 2001 and became skipper in 2010, leading Pakistan as their most successful captain with 24 wins in 53 Tests.
Misbah also led Pakistan to the number one ranking in Tests in 2016 following a 2-2 series draw with England and has a batting average of 50.55 as captain.
While the Islamabad United captain rues not winning the World Cups in 2011 and 2015, a bigger regret is having not captained his country against arch-rivals India in a Test series.
"What can one say? It [scheduling] is not in our hands but yes, it is my regret that I couldn't lead the team against India, especially when our Test side was doing so well," he added.
"It didn't happen all these last seven-eight years. Although I have played in India and I know their people want to see both teams play regularly against each other.
"We became number one in Test rankings, they also achieved this pinnacle and that too without playing against each other. I just hope bilateral ties resume as soon as conditions improve."
Misbah also spoke about the recently concluded second season of the Pakistan Super League (PSL) as despite an incident-free final, three players were involved in anti-corruption allegations during the tournament.
Misbah, who previously stated that "nobody wants Pakistan or its players to be associated with fixing again", reiterated his stance and says players should face strict punishments, especially after the nation is trying to fix their reputation.
"And I maintain we need to have exemplary punishment for players found guilty of corruption in cricket," he explained. "After the hard work we put into reviving our image after the 2010 scandal, this came as a shock. I just hope the players now learn their lesson."