You might be making your daily commute via air travel by 2019 as PAL-V preps the launch of its three-wheeler flying car. The Netherlands-based company has been working on its prototype since 2011 and has now opened pre-orders, with the vehicle set to reach India within the next two to three years.
PAL-V One is a two-seater personal land air vehicle – hence its name – that be driven on the roads or taken skywards, thanks to a flight-certified aircraft engine. It's essentially a mash-up between a car and a gyroplane, featuring a propeller and rotor that fold out when you need to take off.
On the roads, PAL-V One promises handling similar to a motorbike, owing to a so-called patented tilting system. The vehicle runs on petrol, can take off and land with low speed and the manufacturer reckons it will get you up to speeds of 112mph – on land and in the air.
Once airborne, the vehicle is meant to be kept within the airspace limits for uncontrolled Visual Flight Rules (VFR) traffic – which means below 4,000 feet. In a vehicle this size, it's probably best to steer well clear of commercial airlines.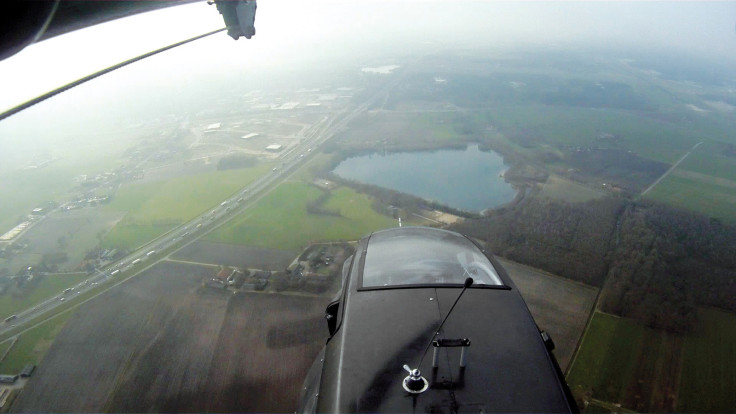 A PAL-V spokesperson told IBTimes UK that it would be delivering its flying car will be to customers in Europe "soon", starting in the Netherlands at the beginning of 2018 before reaching the rest of the continent later that year. However, potential buyers will have to be quick: only 45 vehicles will initially be available, and each will come with a price tag of roughly €499,000 (£390,000, $566,000).
PAL-V Europe CEO Robert Dingemanse told Business Standard that the company had already received "a number of orders" for the vehicle and recently secured a patent for its technology in India, where it has seen interests from government institutions, hospital and the tourism sector in particular.
He told the website: "Driving and flying with one vehicle opens up a complete new set of applications people until now could only dream of." While it wasn't specified what licences are required for operation we would imagine owners would have to own both a driver's licence as well as a pilot's licence for light aircraft. Or, at least we hope so.