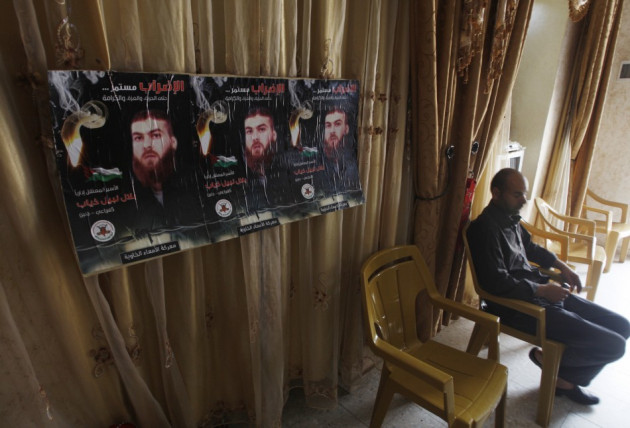 A Palestinian who has been on hunger strike for 73 days in protest at his detention by Israel has been told he "could die any moment" by a prison doctor.
Thaer Halahleh, who was recently transferred to a hospital after refusing to drink water, is reportedly on his deathbed.
A lawyer from Jerusalem-based charity Addameer described Halahleh's deteriorating condition.
"Halahleh has lost significant weight, and now weighs 55kg," said the NGO. "He has exceedingly low blood pressure and his temperature is fluctuating at dangerous levels. In addition to vomiting blood, Halahleh is also bleeding from his gums and lips."
Israel's supreme court rejected a request by Halahleh and fellow hunger striker Bilal Diab to be freed.
Halahleh is part of an estimated 1,600 Palestinian prisoners out of 4,800 who launched a mass hunger strike on 17 April to protest against conditions in Israeli jails and to demand an end to solitary confinement and more family visits.
Family sit-in
Halahleh's family gathered for a sit-in in support of him at his hometown of Hebron in the West Bank.
"We all are worried about him, but I worry the most because the mother feels differently than the rest. The mother is always thinking of her son, however, I have faith in God and he will be released, God willing, soon," said his mother, Fatmeh Halahleh.
The director of the Prisoners and Detainees department confirmed Halahleh's life was in "immediate danger".
"His doctor told him that his life is in immediate danger and that he could die any moment and what is very worrisome is the fact that he said that he doesn't want to be saved if something happens to him and he loses consciousness. he doesn't want resuscitation," Anat Litvin said, adding that the organisation believed that the prisoners did not have access to adequate equipment or expertise.
Palestinian president Mahmoud Abbas warned that the death of any one of the hundreds of prisoners on hunger strike could trigger a backlash in Palestine. ""It is very dangerous," Abbas told Reuters. ""If anybody dies today or tomorrow or after a week it would be a disaster and no one could control the situation. I told the Israelis and the Americans if they do not find a solution for this hunger strike immediately, they will be committing a crime.
Red Crescent under attack
Family of prisoners expressed their anger at the International Red Crescent (ICRC) in al-Bireh, near Ramallah. The organisation was accused of inaction on the issue. They prevented employees from entering the building, urging the UN to intervene to protect hunger strikers.
The International Committee of the Red Cross (IRCR) said they are extremely concerned about the health of six detainees who have been on hunger strike for between 47 and 71 days and are in imminent danger of dying.
"We urge the detaining authorities to transfer all six detainees without delay to a suitable hospital so that their condition can be continuously monitored and so that they can receive specialised medical and nursing care," said Juan Pedro Schaerer, the head of the ICRC delegation in Israel and the Palestinian Territories.
However, the IRCR pointed out that the prisoners have the free choice on whether to consent to be fed or to receive medical treatment.
A 70-day Irish hunger striker, who took part in the Irish Hunger Strike that was led by Bobby Sands, has released a video message in support to the Palestinian prisoners.
Laurence McKeown endured 70 days in 1981 without food before ending his fast