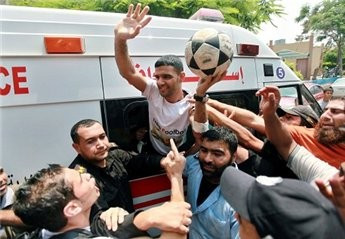 Palestinian footballer Mahmoud Sarsak, the former hunger striker who was freed by Israeli authorities, claimed Palestinian athletes can make miracles and expose Israel atrocities, in his first comments after his release..
Sarsak, 25, who greeted family and friends after three years in Israeli custody without charge, trial or contact, said refusing food was a complicated but necessary task to prove his point.
"Hunger strike isn't a simple word to be thrown up into the air, but something one must think about 100 times before embarking on [it]," he said in Rafah, according to Ma'an agency.
"The long hunger strike I followed proves to the whole world that Palestinian athletes can make miracles."
Sarsak's deteriorating health brought global attention to his case. He was on hunger strike for three months.
"Fifa expressed solidarity with my cause as well as European countries, and that helped expose Israeli policies and show the oppression of the Palestinian people," he said.
During his hunger strike, the athlete experienced extreme loss of muscle tissue and a dramatic weight loss. He ended the fast in June as part of a deal for his release.
Nurses worse than interrogators
He criticised the doctors and nurses at the Ramle prison hospital for trying to force-feed him during his hunger strike.
"Nurses at Ramle prison hospital were worse than the interrogators themselves," he said.
Once a star in the Palestinian national team, Sarsak was jailed by Israel in 2009 as he left the Gaza Strip on the way to a match.
He had been held under the Unlawful Combatants Law, which allows Israeli authorities to detain Palestinians from Gaza for an unlimited period without trial or charge.
The footballer rejected a deal with Israel that ended a mass hunger strike of prisoners in May.
He refused treatment because he had a "deep distrust" of Israeli prison doctors, who threatened to force-feed him and tried to persuade him to accept treatment.
As outrage grew about his incarceration, former Manchester United forward Eric Cantona sent a letter to British sports minister Hugh Robertson and Uefa president Michel Platini, saying that Israel should be subjected to the same criticism as Poland and Ukraine, the co-hosts of Euro 2012.