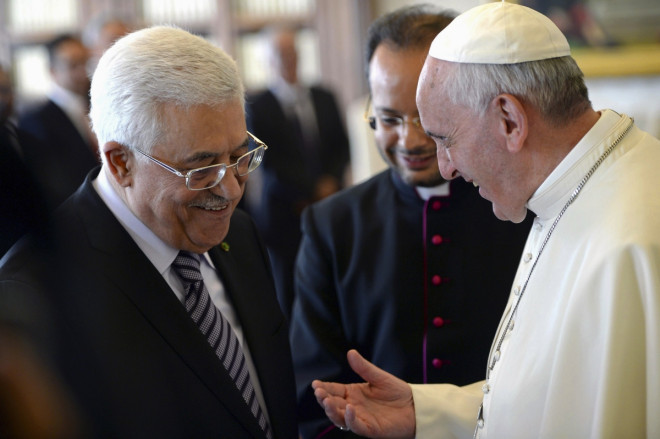 Palestinian Authority (PA) officials are heralding Pope Francis' visit to Bethlehem as a political message to "recognise Palestine" and "oppose the [Israeli] occupation".
The pontiff is set to travel in an open-top car through Bethlehem before meeting President Mahmoud Abbas, holding a mass prayer service in the Palestinian town instead of Jerusalem.
"He is taking a helicopter directly from Jordan to Palestine - to Bethlehem. It's a kind of sign of recognising Palestine," Father Jamal Khader of the Latin patriarchate in Jerusalem said.
"Knowing who he is, and his sensitivity for all those who suffer, I am sure that he will say something defending all those who are suffering, including the Palestinians who live under occupation," Khader continued.
After visiting Bethlehem, the Pope is set to meet Israeli Prime Minister Benjamin Netanyahu at the Notre Dame complex located between Jewish and Arab populations in Jerusalem. Yet, it is his visit to Palestine that is garnering most of the attention from officials on both sides of the divide.
"This visit [to Palestine] will help us in supporting our struggle to end the longest occupation in history," said Abbas's adviser for Christian affairs, Ziyyad Bandak.
Bandak said that Francis "will have a lunch with Palestinians, with families suffering from the occupation...then he will visit Dheishe refugee camp to witness the suffering of Palestinian refugees".
He continued by saying that Israeli officials are not happy that the "the Pope will begin his visit in Palestine and not Israel", interpreting the decision to be a slight against the Jewish homeland.
"We welcome this visit and consider it as support for the Palestinian people, and confirmation from the Vatican of the need to end the occupation," the PA adviser concluded.
The PA's claims of a political message being delivered by the Pope has been supported by reports earlier this year when Rabbi Sergio Bergman, a close friend of the pontiff and member of the Argentinian parliament, said that Francis wishes to style himself as the "Che Guevara of the Palestinians".