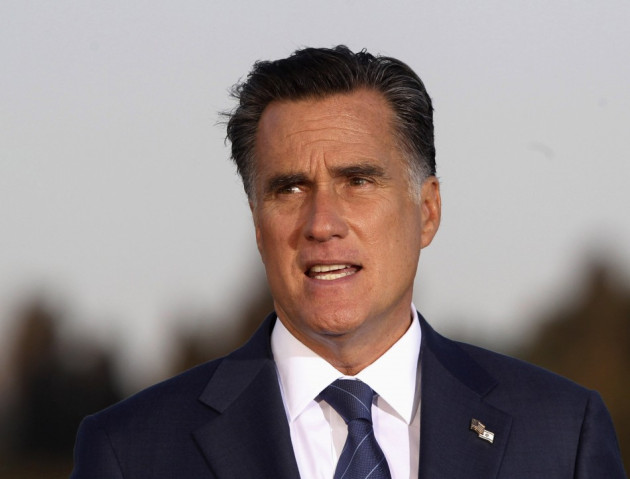 Palestinian officials have hit back at US presidential candidate Mitt Romney after he told Jewish donors in Israel that culture and the "hand of Providence" are responsible for the country's economic superiority over Palestine.
Earlier, he asserted that Jerusalem is Israel's capital and that he would move the US embassy from Tel Aviv, where all foreign embassies are currently based, to Jerusalem as Israel desires.
"As you come here and you see the GDP per capita, for instance, in Israel which is about $21,000 dollars, and compare that with the GDP per capita across the areas managed by the Palestinian Authority, which is more like $10,000 per capita, you notice a dramatically stark difference in economic vitality," Romney said.
Romney, who will contest the forthcoming US presidential election with Barack Obama, cited Jewish perseverance and business culture as reasons for the gap, before alluding to divine will by saying that the "hand of providence" also plays a part.
Romney continued: "Aas I come here and I look out over this city, and consider the accomplishments of the people of this nation, I recognise the power of... culture and a few other things."
Palestinians want to set up a capital in east Jerusalem, which has been controlled by Israel since the 1967 war.
Israel pulled out from Gaza in 2005 but has had a blockade of the Gaza Strip in place since 2007, when Islamist militant group Hamas seized the territory. Israel allowed more food and non-military items into Gaza in 2010.
Saeb Erekat, an aide to Palestinian Authority President Mahmoud Abbas, strongly criticised Romney for his comments, calling them "completely unacceptable".
Quoted by the Associated Press, Erekat continued: "What is this man doing here? Yesterday, he destroyed negotiations by saying Jerusalem is the capital of Israel, and today he is saying Israeli culture is more advanced than Palestinian culture. Isn't this racism?
"It seems to me this man [Romney] lacks information, knowledge, vision and understanding of this region and its people," Erekat added. "He also lacks knowledge about the Israelis themselves. I have not heard any Israeli official speak about cultural superiority."
During his visit to Jerusalem, Republican Romney raised more than $1 million at a fundraising event at the luxurious King David hotel in Jerusalem, with guests including casino mogul Sheldon Adelson, New York Jets owner Woody Johnson and hedge fund manager Paul Singer.
US policy on the status of Jerusalem, specifically its position as the capital of Israel, has always been vague. A US law of 1995 states that Jerusalem as the capital of Israel, and stipulates that the American embassy should move to the city from Tel Aviv. However the past three presidents have suspended the law, citing security and diplomatic concerns.
"East Jerusalem is occupied territory. I don't think occupation and aggression is rewarded, even during an election campaign," Erekat said.
"Those who seek peace between Palestine and Israel, and those who seek to save lives, must stand tall for the two-state solution and for east Jerusalem as the capital of the state of Palestine."