Paloma Faith has opened up about her fake laugh when she lost out to Dua Lipa at the Brit Awards.
The 36-year-old singer was seen throwing her head back in OTT laughter when Lipa, 22, headed on stage to collect her award for Best Female Solo Artist.
Faith initially looked glum on hearing that she had not won the gong, but was seen in a sudden fit of giggles when someone on her table told her she was on camera at Wednesday's (21 February) ceremony.
The clip later went viral on social media, with viewers dubbing it the best fake loser reaction in a long time.
One person tweeted: "Did Paloma Faith just see she was on camera because that was a really bad fake laugh #BRITs #PalomaFaith."
While someone else said: "How fake was that laugh from Paloma Faith ."
As a third added: "Careful there Paloma Faith, don't look too bitter #BRITs"
Explaining the incident on the Capital FM Breakfast Show, she told Roman Kemp: "The guy that's sat next to me has gone 'the camera is on you right now' so I was just having fun with the people next to me.
"I already knew, because of just knowing, that I wasn't going to win so I didn't feel I had to concentrate. So when he said that I was like [laughs].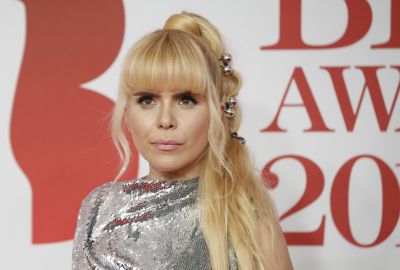 "I'm really happy for Dua and for the record anybody who thought that was sarcasm is wrong," she clarified.
Lipa, 22, won big on the night and also bagged the British Breakthrough Act. Grime artist Stormzy also won two awards – Best British Male and Best British Album for Gangs, Signs and Prayer.
The 24-year-old rapper from South London also addressed Prime Minister Theresa May in his performance which closed the show, asking the Tory MP: "Yo Theresa May, where's the money for Grenfell?
"What, you thought we just forgot about Grenfell? You criminals, and you've got the cheek to call us savages, you should do some jail time, you should pay some damages, you should burn your house down and see if you can manage this."
May has since responded to the star, with a 10 Downing Street spokesperson stating on her behalf: "She's determined that the public inquiry will discover not just what went wrong but why the voices of the people of Grenfell were ignored over so many years. In terms of support for the people affected by this tragedy, more than £58m has been committed."