Pampore siege in Kashmir ends after 52-hour standoff
Indian forces kill 2 extremists to end the building siege.
The siege laid to a seven-storey government-run building in Kashmir is finally over after 52 hours as the Indian security forces kill two extremists. Still, the army personnel and counter-terrorism units are combing the sprawling complex for hiding militants, if any.
While the first attacker was killed on Tuesday (11 October), the second day of the attack, the second militant was killed on Wednesday. Both the bodies have been recovered by the army personnel.
Carrying a large cache of ammunition and other supplies, the insurgents entered the 10,000 sq ft-compound of Entrepreneurship Development Institute (EDI) on Monday (10 October) early morning quickly followed by a dramatic confrontation with the military.
The lengthy siege has been riddled with a heavy and relentless gunfight, rocket fire and loud explosions. Drones were also deployed for a steady surveillance. More than 50 rockets have been fired against the militants, who showed unyielding resistance. One police personnel and two Indian soldiers were injured in the initial round of firing on the first day.
Army officials have also denied they had plans to bring down the entire structure, a government-run institution meant to serve young Kashmiri people, for the sake of the hiding militants. But, they admitted the building has suffered serious damages and most parts of it have been reduced to skeleton due to the firing. The strategically situated building came under a similar attack in February 2016 as well.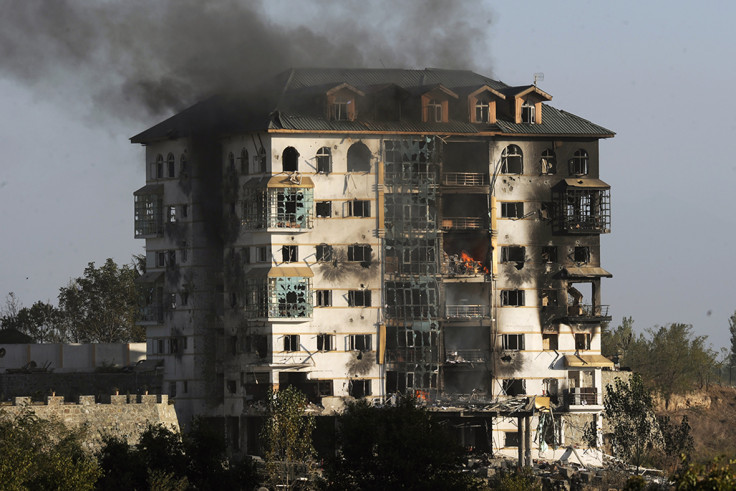 Meanwhile, the Indian army has also said there was another infiltration attempt in a nearby location and it was thwarted. "An infiltration bid was foiled by Army in Tangdhar sector," read a brief statement from the army which said the attempt was made at the de facto border, the Line of Control.
© Copyright IBTimes 2023. All rights reserved.