Follow all the latest from Las Vegas on our CES 2013: Live Blog
Ultra HD (the resolution standard formerly known as 4K) is everywhere at CES this year, with multiple TV manufacturers claiming to have the "world's largest Ultra HD TV" on show at their booths.
However there is only one company claiming to have the largest Ultra HD tablet - and for good reason.
Panasonic announced the world's first 4K tablet earlier this week and I went to see just what this huge "portable" PC was all about.
Huge
The first thing you notice about the tablet, which doesn't have a name yet, is that it is huge. At 20in, the tablet resembles an All-in-one PC more than what we would traditionally consider a tablet.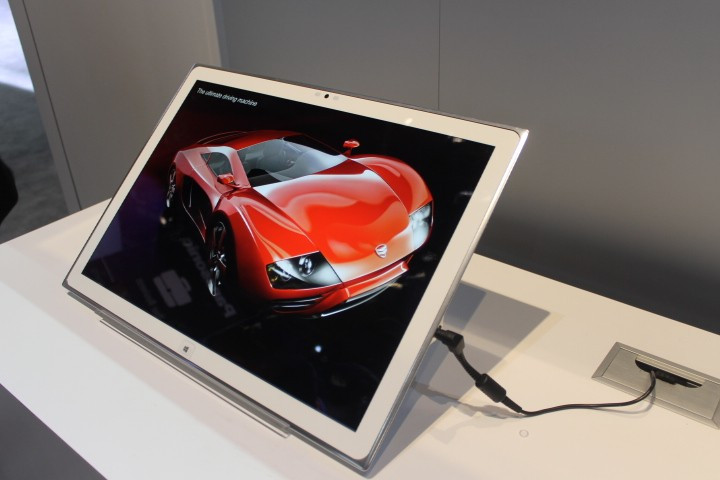 However, with an internal battery (which only lasts about two hours at the moment), this is a PC you can take with you, and doesn't require A/C connection to work.
The model on show at Panasonic's booth at the Las Vegas Convention Centre was a pre-produciton model and therefore our initial impressions were skewed slightly by the fact the final commercial model (if there is one) will probably be improved.
The 20in tablet on show was running Windows 8, was powered by an Intel Core i5 processor and weighed around 2.25kg.
Considering the size of the screen, the tablet is very thin and not too heavy, but it is still going to be a challenge to carry around. It won't fit in any regular backpack or handbag, and when we picked it up, the rear was almost too hot to touch - though it had been running non-stop for a number of hours at that stage.
Comparing
There is no point in comparing this tablet to the likes of the iPad or Nexus 7 as it is not aimed at the general consumer market. This is a tablet firmly aimed at professionals, specifically those involved in photography, design and architecture.
The display units at CES were showing off Adobe photoshop and CAD software which can be used in conjunction with a Bluetooth Panasonic stylus to make detailed alterations to images or drawings.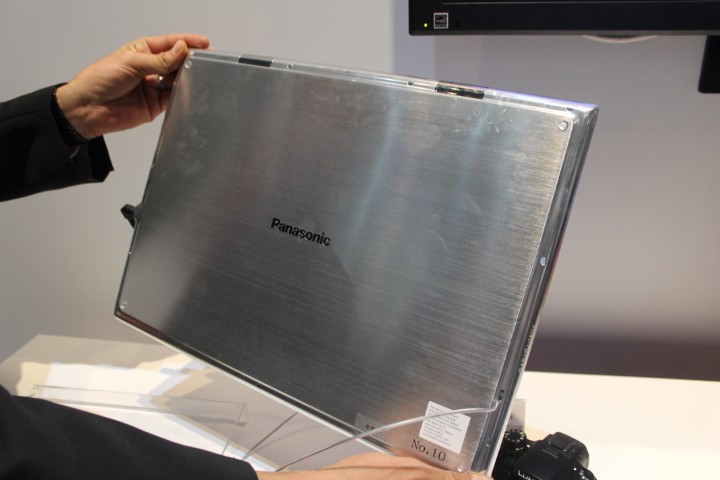 And this is where the 4K resolution comes in. You can zoom in to such fine detail that photographers will be able to make detailed alterations on the move, while the tablet is powerful enough to all for a number of architects to collaborate in real-time on a single document.
The problem is that these use cases are limited and the size of the tablet means it is more likely to be used in a studio moving it from room to room than bringing it on the road.
Absolutely stunning
The screen itself however is absolutely stunning. The level of detail you can see is amazing, colours are really bright and vibrant and viewing angles on the IPS panel are excellent.
With a resolution of 3840 x 2160, the 20in screen has a pixel density of 220 pixels per inch. While this is certainly impressive, the 13in MacBook Pro with Retina Display has a pixel density of 227ppi, while the 15in version comes in slightly below at 217ppi.
Another issue that will have to be solved before launch is to do with the software. Windows 8 is not designed to support such a resolution and therefore icons are tiny on the huge screen, while applications like Photoshop will also have to be updated to support 4K - a similar issue users of Apple Retina MacBooks found.
On the move
For those looking to edit on the move, surely a laptop and mouse combination with a 15.6in Retina Display is a much more appealing product - and likely cheaper.
As a representation of what's possible with tablet and screen technology, the Panasonic tablet is impressive. As a viable product, it is less successful.
Panasonic has not announced any pricing or availability details, which could indicate that it is flying a kite with the 4K tablet and seeing what people's reaction is.