The death of Belgian Isis jihadist Abdelhamid Abaaoud, the suspected ringleader behind the Paris attacks that left 129 dead, on Wednesday (18 November) was welcome by French leaders, but also raises a number of issues about security and cooperation at European level.
Two people were killed and seven arrested after police raided a flat in search of suspects linked to the 13 November attacks in Paris that wounded more than 350 people. Abaaoud was reported as being the target of the Saint-Denis raid.
Prime Minister Manuel Valls lauded Abaaoud's death, congratulating both the French authorities and police forces for their efforts, after Abaaoud was formally identified as one of the two people killed in a police raid on a "conspirational" apartment in Saint-Denis, Paris.
Jihadi's movements unknown
Abaaoud, whose family originates from Morocco, was believed to have fled Europe through Greece as the net of international intelligence agencies closed around him.
The 27-year-old IS militant boasted in an interview with Islamic State's Dabiq magazine in February that he had been able to leave Europe and evade security forces.
If he was speaking in Syria at the time of the interview, as had been assumed, confirmation from French officials that they had targeted Abaaoud would indicate that he was still able to sneak into Europe for a second time despite being sentenced in absentia to 20 years in Belgium for recruiting fighters for IS in Syria and running terror networks.
Abaaoud, blooded in Syria fighting against Assad forces, has been identified by various European police forces as being behind a string of botched terrorist attacks on the continent, including a plot to kill police officers in Verviers in January and the thwarted attacks on a high-speed train between Amsterdam and Paris in April.
Abaaoud was a 'war leader and instructor'
For terrorism expert Mathieu Guidère, the jihadist's death is a "success" for France, "which protects us from retaliation actions".
There is reason for optimism, Guidère insisted, because of Abaaoud's importance to the French jihadist network. The expert described him to local media as "a war leader, an instructor, an artificer".
This is a point Interior Minister Bernard Cazeneuve did not fail to point out, explaining that Abaaoud "seem to have been implicated in four of the six attacks thwarted since (this) Spring".
The minister also told reporters that the authorities had linked the jihadist with Sid Ahmed Ghlam, a 24-year-old student who had planned "imminent" terrorist attacks in Paris or the city's suburbs.
Making room for aspiring, extremist copycats
François-Bernard Huygue, a specialist in political studies at Paris's IRIS center for strategic studies, however expressed a slightly more subdued opinion.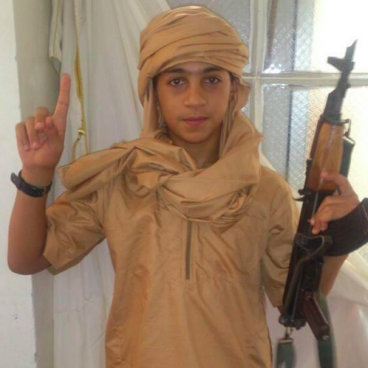 In his view, Abaaoud's death leaves the door wide open to all of those who took the jihadist as a role model.
"There's going to be a rush on the doors to become his successor at an operational level, because I fear that he has aroused vocations within Daesh (a loose acronym for Islamic State of Iraq and the Levant)", the expert said.
It seems Abaaoud had already attracted members of his own family to join him as he waged jihad. In August last year, Younes Abaaoud, a 13 year-old from Belgium, was believed to have joined his older brother to fight for IS in Syria.
A photo of the teenager, believed to be one of the youngest IS fighters has been widely circulated, and shows him posing with an AK-47 in his left hand and pointing to the sky with his right forefinger (see picture above).
Described as the first-ever female suicide bombers to operate in western Europe, 26-year-old Hasna Aitboulahcen who detonated a suicide vest during the raid by French police is said to be the cousin of Abdelhamid Abaaoud.
Moreover, Huygue insisted that, even if his death was inevitable, considering the violence associated with the raid, it also means that Abaaoud disappeared with a wealth of information that would have held vital clues for investigators.
Speaking to the press following the confirmation of Abaaoud's death, Cazeneuve, meanwhile, congratulated French security forces for neutralising "the target... that is no longer able to harm".
He said: "The (French) Republic is doing all it can to destroy terrorism".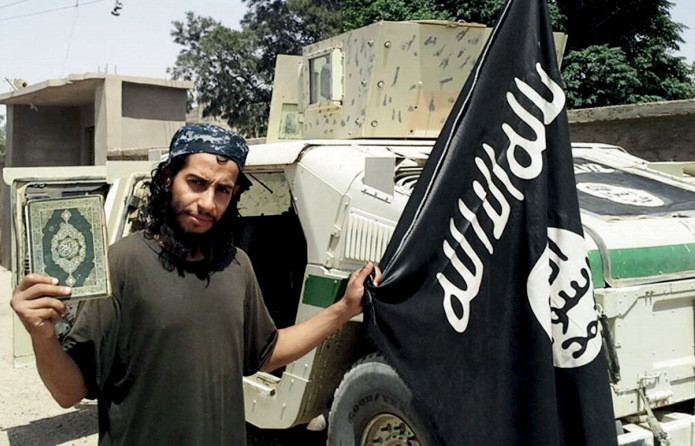 A European issue
Cazeneuve, however, insisted that the presence of Abaaoud on French soil was a European issue. "It was only on 16 November that a security service outside of Europe had indicated to us the presence of Abaaoud in Greece," he explained, insisting that "Europe needs to pull itself together".
"I am calling, from Paris, for a collective realisation of all European ministers who will meet tomorrow," Cazeneuve said, indicating that leaders needed to enforce security in Europe. "We must work quickly and strongly."
The minister echoed earlier comments from the country's Foreign Minister Laurent Fabius who condemned the "failings" of the European system after initial - unconfirmed - reports suggested Abaaoud had been killed.
"If Abaaoud could move from Syria to France, that means there are flaws in the whole European system," Fabius reasoned. "Then, we'll have to be much, much firmer and tighter."
Security failure
David Thompson, a journalist specialising in jihadism, told France Info radio that European leaders were "well beyond the security failure".
Arnaud Danjean, a Member of the European Parliament representing former president Nicolas Sarkozy's Les Republicains party questioned how Abaaoud managed to evade justice.
"We think that (Abaaoud) was in Belgium in January. What has he done since?" Danjean said on Twitter. "How was Abaaoud not detected?"
In another message, the politician reminded his followers: "We bomb Syria in the name of legitimate defence but the brains behind the most serious attack was on our own soil".
A demonstration in front of the Great Mosque of Paris, planned for tomorrow Friday (19 November) has been cancelled for security reasons.