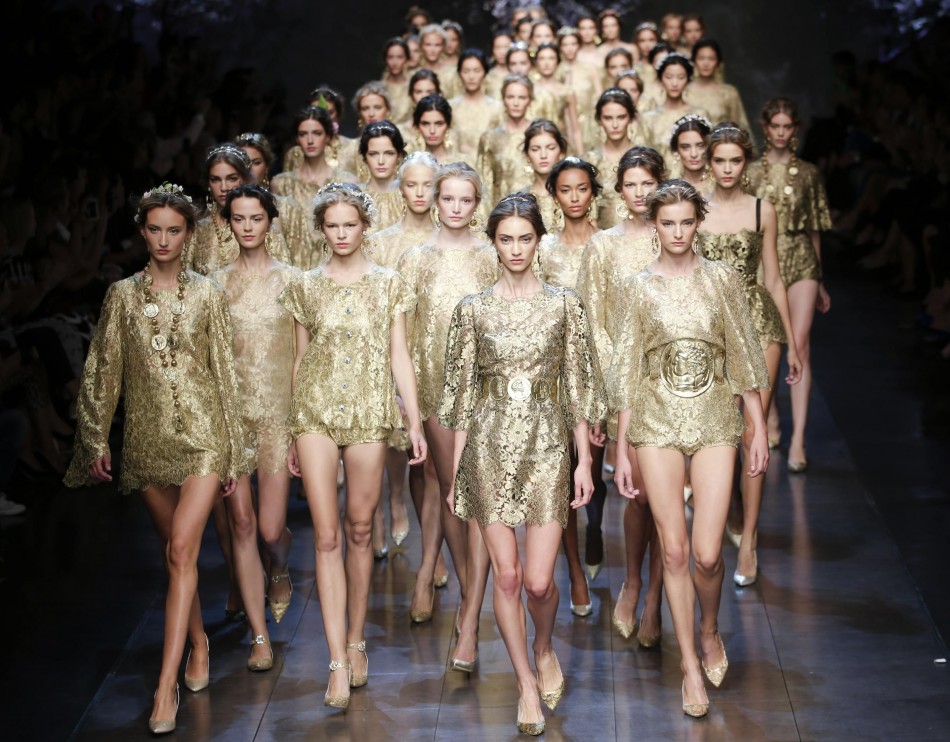 Designers took to ancient architecturte and nature-inspired patterns on the closing day of biannual Milan Fashion Week 2013 in Milan, Italy on 23 September.
At the Spring/Summer 2014 show, Milano Moda Donna, which took place at the Fiera Milano exhibition centre in Milan, metallic dresses, nautical prints and soft-fabric dresses in soft hues ruled the runway – courtesy, design houses Armani and Dolce&Gabbana.
Italy's veteran fashion designer and founder of Armani fashion house, Giorgio Armani, showcased his luxury haute couture at Milan Fashion Week. Giorgio Armani's Spring/Summer 2014 collection turned an aqua delight on the ramp as models cat walked in an array of marine prints.
The tailored collection in aqua blue hues included blazers, shorts, floral kaftans, flowing translucent dresses and hats. Armani said that his collection was imagined for a woman who is "a bit less constrained by the everyday... a woman who lives a life of her own", Reuters reported.
Italian luxury industry fashion house of Dolce & Gabbana put yet another out-of-the-box runway show featuring creations inspired from ancient Italian architecture. Designers Domenico Dolce and Stefano Gabbana presented their spring-summer collection reflected ancient Sicilian culture. There were dresses with temple prints and metallic embellishment carrying' imprints of ancient Sicilian rulers and ruins.
While metallic golden hue dominated Dolce & Gabbana's collection, printed dresses in green, red and black were awe-inspiring too. The designer duo also recreated retro style with some of the creations featuring polka dot prints, floating sleeves and baggy fitting. A few creations with floral motifs were a hit on the runway.
Scroll down to view some of these marvellous creations presented on the last day of Milan Fashion Week.