Paris Fashion Week: Copping's Sophisticated Cocktail Dresses from Nina Ricci Hit Runway [SLIDESHOW]
British designer Peter Copping presented his collection under the label of French fashion house Nina Ricci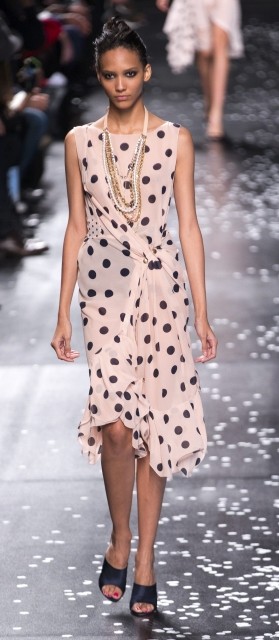 British designer Peter Copping was the star of the third day of the Paris Fashion Week; his models walked the ramp in a stunning range of soft-hued and sophisticated cocktail dresses, presented under the label of French fashion house Nina Ricci.
Copping, Ricci's head designer, opened his Spring/Summer 2013 show with a theatrical twist... a shower of cherry blossoms to capture the mood of a receding spring and the collection itself drew heavily on the spring and summer feel, featuring as it did floaty creations ranging from chiffon tops to knee-length dresses.
The presentation opened with an array of black silk cocktail dresses in different styles, ranging from those with sheer sleeves, asymmetrical and fringed skirts to creations with fish net bodices and necklines, suits with jackets and more.
Lest the black dampen the mood too much, it was followed by a gentle parade of softer colours, including silver, peach and a sea-green that evoked memories of a warm summer's day at the beach. There was also a polka-spotted dress that was simply the best of the swinging 50s and 60s.
Copping, who earlier worked with Louis Vuitton, was acclaimed as having presented the most essentially feminine collection of the Week so far. Vogue called it a "highly eroticized and highly engaging spring show" but quickly added that the show "created a palpable frisson out of colliding his typical ladylike elegance with the provocative accoutrements of punk, fetishdom, and the contents of the local adults-only emporium". The designer contended himself by saying it was merely another side of the Ricci woman.
Peter Copping has been credited with inspiring feminine elegance since he took over design at the Ricci label and his work has attracted the attention of several A-list Hollywood celebrities, including Nicole Kidman.
Also on show for the third day were French designers Julien David, Barbara Bui and Olivier Rousteing, as well as American Alber Elbaz and Indian designer Manish Arora. Meanwhile, other designers who have presented collections so far include Belgian designers Jean-Paul Lespagnard, Véronique Branquinho and Cédric Charlier.
Check out photographs of models in stunning Nina Ricci couture at the Paris Fashion Week. Click on Start to begin