France: 40 injured as police and protestors clash during national strike over labour law reform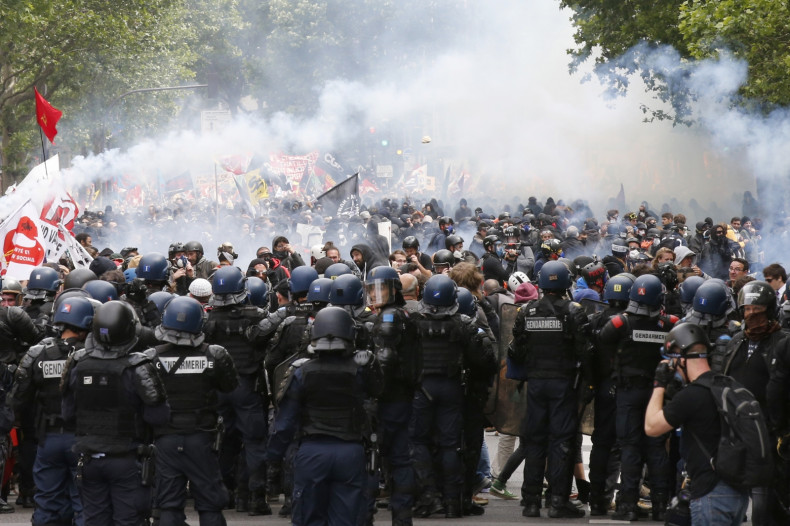 Demonstrators in Paris protesting controversial labour laws have clashed with police in the French capital during a day of national strikes (14 June 2016). Seven of France's powerful workers' unions and students' organisation called for the day of action with street protests planned across the country. The day of action coincides with a debate in the country's senate to reform labour laws.
In the French capital, police fired tear gas canisters as they were met by a barrage of projectiles thrown by the protestors, the Associated Press (AP) has reported.
Twenty nine officers and 11 protestors were injured in violent demonstrations to coincide with a French senate debate on the proposed changes to employment law, which supporters say are aimed at making the job market more flexible and reducing high unemployment but which opponents say are too pro-business.
France's transport infrastructure was also hit hard by the planned industrial action. Rail workers, taxi drivers and Air France pilots have joined the strike. About 20 percent of all Air France's flights were cancelled as a result, as pilots strike to demand better working conditions.
The Eiffel Tower, Paris' most famous landmark, was closed as a result of the strike.
A board on the tower read: "Monument closed – National strike". Tourists, many of whom are in France to attend the Euro 2016 Finals, had their trips upended by the strikes.
Petlev Schultz, a German tourist who came to Paris to attend the European soccer tournament, told the AP: "That's a shame for tourists because we didn't just come for the Euros but also the sightseeing, but we've found out there are strikes everywhere. We are looking into finding way to still experience the beautiful city. "