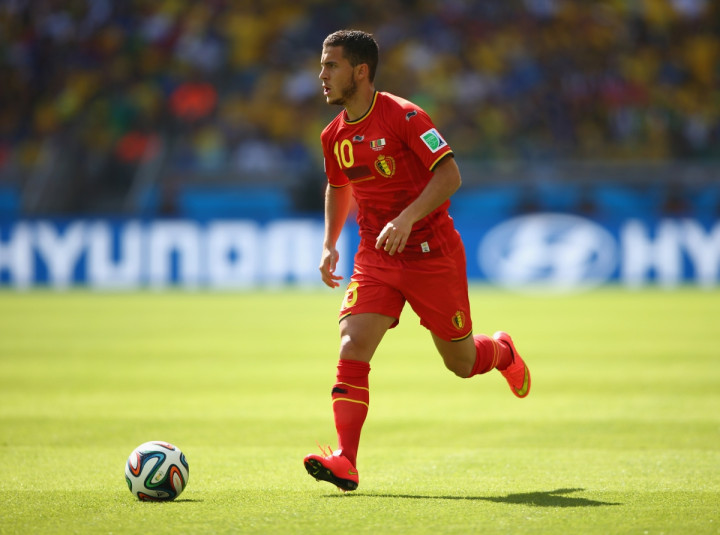 Paris Saint Germain have admitted defeat in their pursuit of Chelsea star Eden Hazard and will focus their attention on other targets.
The Ligue 1 champions had previously refused to give upon on their efforts to prise the Belgian international away from Stamford Bridge, despite the Blues opening discussions over a new deal with the player and manager Jose Mourinho ruling out his departure.
Laurent Blanc's side have already done business with Chelsea in signing David Luiz for a fee that could rise to £50m but it would appear that will be the last deal struck between the clubs this summer after the PSG boss admitted their pursuit of Hazard is finished.
"Hazard is a top player, but I think Chelsea want to keep him. A lot of players are going to be mentioned, but we have already got our priority, David Luiz," Blanc is quoted as saying by the Evening Standard.
"Some players will ask to leave, we will have to see. For the moment, that's not the case. We're going to bring in some players, one or two, of great quality.
"We are going to wait a bit before making any more signings. Be patient."
Hazard endured a rather lacklustre start to Belgium's World Cup campaign as he suffered an injury as his side struggled to break down Algeria. Manchester United midfielder Marouane Fellaini and Napoli winger Dries Mertens eventually scored the goals that gave them the win, but Hazard is hoping he and the rest of Belgium's vibrant attack can make more of an impression as the competition continues.
"I didn't find it easy (against Algeria). It was difficult for all the midfielders and forwards especially in the first half, to find the space to shown what we can do," Hazard said.
"But when Marouane scored the equaliser, the game opened up more and we were able to show a little more of what we can bring as individuals and as a team. Hopefully you will see more of that kind of football from us in the games ahead.
"I can definitely play better and we can also play better as a group. But this was just the start for us, and we have won our first game, which we always felt would be the most important one."