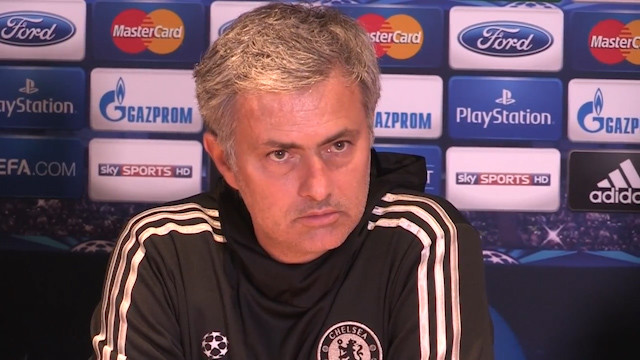 Chelsea manager Jose Mourinho has heavily criticised Vicente Del Bosque's tactics in the wake of Spain's World Cup exit, claiming they were "predictable, slow and sad" in their games against Holland and Chile.
Del Bosque's side suffered a humiliating 5-1 defeat against Holland in their World Cup opener on Friday before losing 2-0 to Chile on Wednesday – confirming their elimination from the tournament in the group stage.
Mourinho has accused the Spain manager of failing to make necessary changes to his team against the Chileans, adding that the world champions continued to make the same mistakes they made against Louis van Gaal's side just five days before.
"The surprise is Spain played two games in four days against two teams with the same style (five defenders, a holder and a number ten behind the two strikers) with the same principles. They have not looked the strategic side of the game, they have accumulated many players in the centre and just Pedro and Jordi Alba have tried to attack through the flanks. The rest have played just through the centre. They have been predictable, slow and sad," Mourinho told to Yahoo Sports.
"Holland and Chile were very good from a strategic point of view, and Spain couldn't cope with it in my opinion. People learn how to play against the best teams and when the best teams play always believing that their philosophy is the one, the other people learn.
"For this reason I think there is not much to say, because in the past six years Spain have been fantastic, but this time they have just been eliminated in the group stage. Congratulations to this fantastic and unforgettable team, but this time, they deserve both defeats. They scored one goal just with a penalty and they have zero points and they are already packing to go home."
Furthermore, Mourinho praised both van Gaal and Chile boss Jorge Sampaoli for how they blocked the Spanish tiki-taka.
"I think it is fair to say that there is a big responsibility in Holland and Chile (for Spain's downfall). They did what I think in modern football you have to do – you have to be strategic.
"Spain was so amazing in the past four, six years – they were so amazing in the way that they were playing football – that people learn, people look, people study. Louis van Gaal was brilliant in the way he analysed and he prepared the game against Spain but today, Jorge Sampaoli even more.
"We have to be fair, and instead of saying Spain didn't play well – which I agree with – we have to be fair and say Chile did an amazing work and congratulations to the coach Sampaoli."