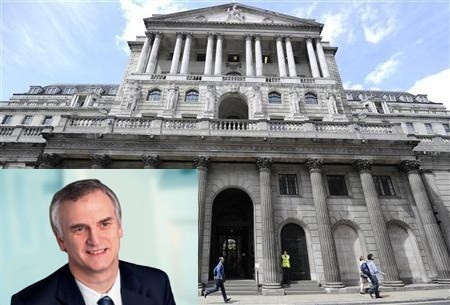 Around £100bn is likely to be pumped into the UK economy under the Funding for Lending Sceme (FLS), according to a Bank of England policymaker.
FLS has already led to lending rates being pulled down by some of Britain's biggest banks, but economists caution that not enough of the credit easing effort's effect is being felt by finance-hungry small businesses, with mortgage borrowers seeing the lion's share of discounting.
"The banks now really have an incentive to go out there and lend," said Paul Fisher, member of the Bank's rate-setting monetary policy committee (MPC), in an interview with The Sun newspaper.
He added that though the total value of FLS is uncapped, it will probably push between £60bn to £100bn into the economy through lending to businesses and consumers.
Under FLS, banks are able to access cheap loans from the Bank of England in direct correlation to the value of their lending to the real economy of consumers and smaller firms.
As the value of a bank's lending increases, so does the amount of discount loans it can get from the Bank of England.
So far several large banks have said their rates will drop because of FLS, such as RBS, Natwest, and Lloyds.
As the UK muddles through a double-dip recession, many economists say that the squeeze on finance for smaller firms is holding back growth and job creation.
FLS is intended to combat this by giving a financial incentive to banks to increase their affordable lending to this part of the economy.
However a research report by investment bank Societe Generale said that the results of a recent Bank of England survey on credit conditions, showing that businesses do not expect the lending environment to improve for them, were "very disappointing".
"It is early days yet and lenders cite the Funding for Lending Scheme as a significant factor in the better mortgage outlook, but we need to see corporate loans respond as well," said the SG report.
"Much remains to be done."
'Worst of recession is over'
Fisher also told The Sun that Britain is through the worst of the longest double-dip recession since World War Two.
"Getting the economy back on track won't be a 100m sprint - it will be more Steve Ovett than Usain Bolt," said Fisher, noting that "people have suffered, they have lost their jobs, houses, their businesses".
There was still a caveat, however.
"Another crisis in the Middle East could still blow us off course," he said.
"But the big changes we had to deal with - in energy prices, the one-off change in VAT rates, the effect of imported inflation from the Pound's depreciation in 2007 and 2008 - these effects have worked their way through the numbers.
"These things have now passed."
---
Follow @shanecroucher